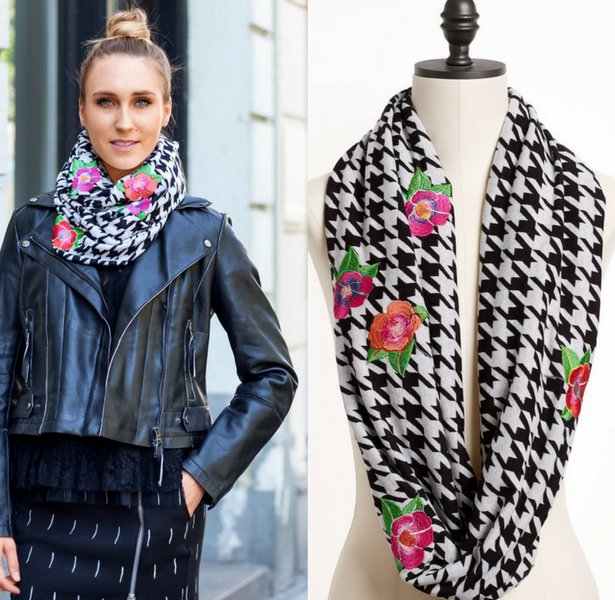 ShareThis
An infinity scarf is unbelievably versatile. Wrap it twice around your neck, as an eye-catching accessory that also keeps you wonderfully warm. By the way, houndstooth checks and embroidered flowers are absolutely "in" this season!

+ Jersey houndstooth check fabric
+ Machine embroidery threads
+ "Wash Away" embroidery film
+ Solufi x (Vilene/Pellon interfacing)
+ Tape measure
+ Straight pins
+ Scissors
+ Needle
+ Chalk pencil
+ Quilter's ruler
+ Thread
+ Bobbin thread



For the infinity scarf, cut a piece of fabric, 140 × 100 cm (55″ × 40″). Determine positions of embroidery patterns and mark.



Select the correct machine embroidery hoop. Stretch Solufi x tautly in the hoop. With small scissors, carefully score the Solufi x.



Peel the paper off the Solufix (make sure that the adhesive side faces up).



Adhere the section of the fabric which is to be embroidered to the Solufi x. Attach the embroidery hoop to the machine.



Select the embroidery pattern and the position. Then baste the "Wash Away" film in place, following instructions.



Embroider pattern changing color of upper thread as desired.



Remove embroidery hoop from the machine and carefully remove basting stitches.



Carefully tear away the "Wash Away" fi lm. Small pieces can remain, for the moment.



Lift fabric off the Solufi x. The Solufi x and "Wash Away" residues will dissolve entirely in water.



Fold fabric in half lengthwise, right side facing in. Stitch side seam with a stretch stitch. Stitch back seam, leaving an opening, for turning. Turn right side out. Hand sew opening closed.



Leave the scarf hanging loosely like a shawl…



…or wrap it closely around the neck, like a lovely necklace.



Finished!