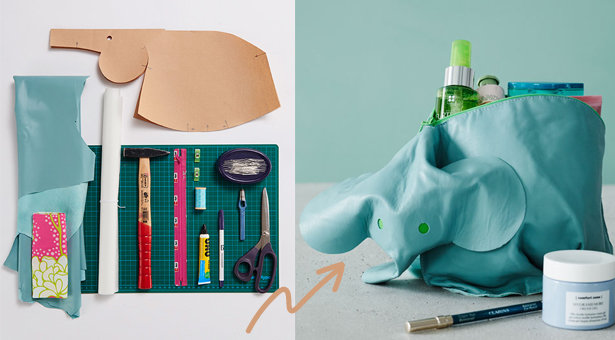 ShareThis
With this cute bag in the form of an elephant, adventurous fantasies are almost real. It will bring joy to every bathroom, and is also perfect for travel and easy to sew. Your most important beauty and grooming tools can be easily placed in this bag. See how to sew your own!
Materials:
- Pattern (download here for free)
- Leather fabric
- Lining (printed cotton)
- Fusible web
- Cutting mat
- Hammer
- Zipper, 22 cm (9") long
- Sewing thread
- Clips (buy here)
- Textile glue
- Vanishing marker
- Scissors
- Straight pins
- Hole punch (1 cm / 3/8")
Step 1: Iron fusible web to wrong side of lining fabric.
Step 2: With the vanishing marker, draw around pattern pieces (body and base) onto wrong side of lining fabric.
Step 3: Cut out.
Step 4: Peel paper backing off the fusible web and iron base and body onto leather.
Step 5: Cut out leather pieces exactly (along edges of lining pieces).
Step 6: Punch out both eyes as marked.
Step 7: Glue a circle of contrasting leather behind each eye hole.
Step 8: Hold the zipper in place, with clips, then edgestitch the zipper in place.
Step 9: Fold the leg pleats and hold in place with clips. Stitch seams on trunk, rear end, and chest, wrong side facing in.
Step 10: Stitch base piece to lower edge of bag, wrong sides facing and tack trunk in place by hand.