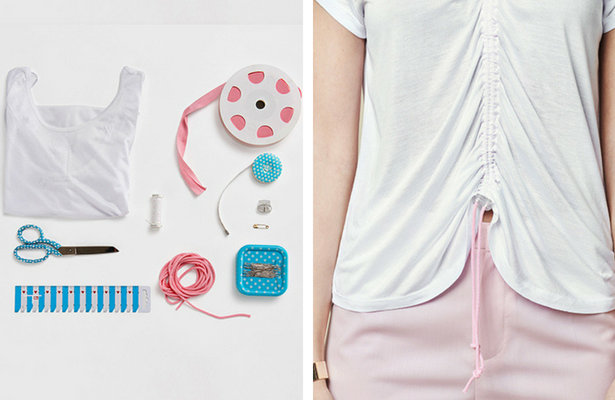 ShareThis
GREAT GATHERS! Drawstring casings give simple basics chic sophistication. You can add drawstring gathers to any dress or T-shirt, all you need is some bias tape, cording, and a sewing machine.

These types of drawstring casings are perfect for summer in the city!



+ T-shirt (store bought or hand made, try this pattern!)
+ Scissors
+ Ruler
+ Tape measure
+ Straight pins
+ Safety pin
+ Cord stopper
+ Thread
+ Pre-folded jersey bias tape
+ Cord



Step 1: Fold the T-shirt lengthwise.
Step 2: Mark the center front with straight pins (here, 51 cm / 20 1/4" long).



Step 3: Pin a piece of bias tape, approx. 55 cm (22") long, along the centre front. At hem edge, turn end under, 1 cm (3/8") wide. On upper end, leave 1 cm (3/8") open.
Step 4: Edgestitch both long edges of bias tape in place.



Step 5: Then stitch along centre of bias tape.
Step 6: Edgestitch the upper ends of the cords in place. Trim the cord ends.



Step 7: Lay upper end of bias tape over the cord ends, turn tape end under, and stitch in place, first trimming tape end as needed.
Step 8: Then use the safety pin to pull in the two cords.



Step 9: Slide the cord stopper over both cords. Knot both cord ends to secure.
FINISHED!: Thanks to the cord stopper, you can gather more or less, as desired.



If you want to use wider cord or ribbon, just use a wider bias tape – which you can make yourself, of course. Then for a more subdued effect, use a cord in a color that matches the fabric!