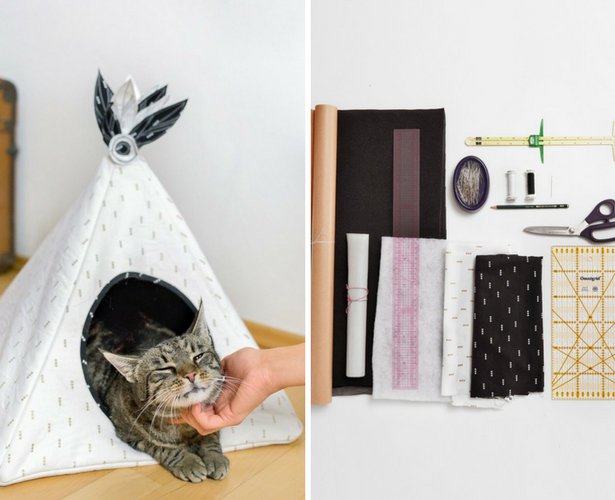 ShareThis
This reversible tent is not only super comfortable and completely washable, but also really cute and decorative! The house is perfectly proportioned and has an additional removable cushion for your kitty. Read on to see how to make…

+ Patterned cotton fabrics
+ Vlieseline
+ Cotton wool P 140 Vlieseline
+ Vliesofix Vlieseline
+ Paper
+ Ruler
+ Compass (Clover)
+ Scissors
+ Pins
+ Hand sewing needle
+ Thread
+ Pencil



Cut parts: 1 bottom part (45 × 45 cm), 4 side parts (each with bottom edge 45 cm, height 45 cm), with 1 side part in the middle cut out a circle with a diameter of 20 cm.



All 4 sides and the bottom part: 2 times from fabric and 1 times from Style-Vlieseline with 1 cm seam allowance cut (bottom part additionally 1 times from cotton wool).



3 side panels: 1 fabric, 1 style-Vil and 1 fabric (floor: fabric, style-Vlieseline, cotton wool, fabric) and quilt around 0.5 cm all around.



For the 4th side piece (stitch up fabric and style-Vlieseline all around 0.5 cm) cut out the circle without seam allowance (diameter 20 cm).



Cut a bias binding for the circle (fabric in the oblique stitching line) and attach it to the right with a slight pull on the right.



Then stitch around at 0.7 cm.



Iron over the bias binding, cut it in and fix it. Then sew tight-edged at about 0.2 cm all around.



Fold the fabric from the back, cut carefully around the circle and then fold in the seam allowance.



Then sew the fabric by hand along the stitching of the bias binding.



Now close all 4 longitudinal seams at 1 cm and then sew on the bottom.



Sew on bias binding and sew on bias binding on all outer edges (as in step 6), then iron, punch in and sew by hand.



Feathers: combine 2 fabrics each with fleece x and decorate with quilting seams (size approx. 10 – 15 cm), then sew by hand to the tent tip.



Finished! Did we mention that it is reversible?



Want to make more for your cat? Try whipping up one of these cat toys!



Happy DIYing!