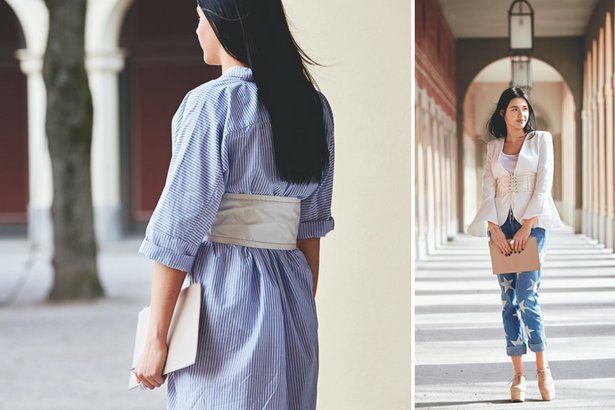 ShareThis
It's a cinch! This summer, the lingerie-look corset belt is an absolute must. The belt looks wonderful over a jacket – even for the office, read on to see how you can make your own…

- Satin
- Cotton fabric
- Thread
- 12 metal eyelets (Ø 5 mm/ 3/16")
- Eyelet pliers
- Ruler
- Chalk
- Shoelace
- Pins
- Scissors



Cut 1 rectangle (waist circumference x 13 cm/ 5 1/4") each from satin and cotton fabrics. Pin together, wrong sides facing. Stitch 0.5 cm (3/16") from edges.



Tear satin strips as desired (0.5 – 2 cm x 13 cm/ 3/16"-3/4″ × 5 1/4"). Stitch in place with zigzag or straight stitch, irregularly spaced, using powder-coloured thread.



Cut 2 satin strips (waist circumference x 19 cm/ 7 1/2"). Stitch to upper and lower edges, right sides facing (SA 1.5 cm/ 5/8"). Turn RSO. Zigzag close to seamed edges.



Stitch 2 strips (15 × 8 cm/ 6″ × 3 1/4") to ends. Press strips over allowances. Fold strips in half, right side facing in.



Stitch narrow edges closed, ending stitching at seam allowance. Trim allowances.



Turn strip right side out. Turn seam allowance under and pin in place. Topstitch in place.



Mark eyelet positions on right and left edges, spacing them evenly. Insert eyelets. Lace shoelace through eyelets.



The torn strips – which also look fantastic in color – give the belt couture character!



The corset belt gives the shirtwaist dress waist definition and makes it party perfect.



Our absolute favourite for summer, worn over everything even T-shirts.

Get the look and sew yourself a shirt dress and jacket to wear with the corset belt…