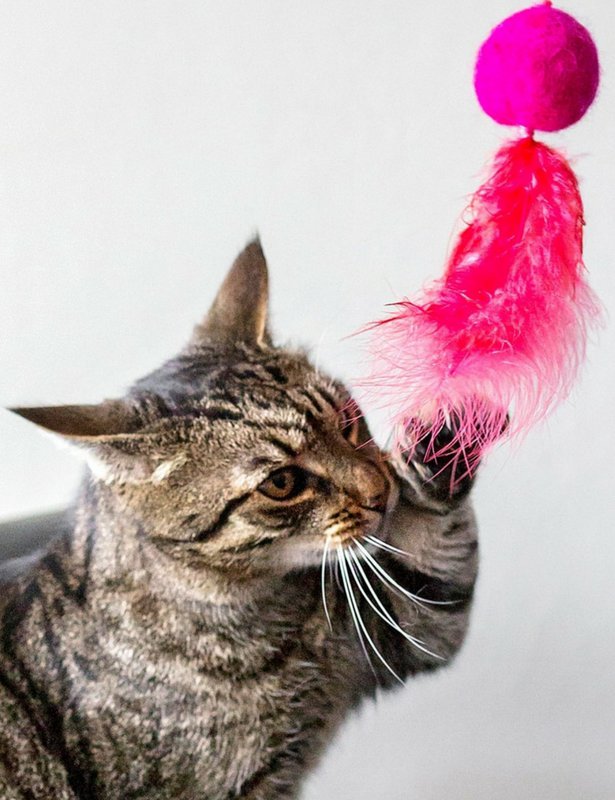 ShareThis
Kitty on the move: With this colorful felt fishing rod, your little cat becomes a wild kitty! For cats that want more variety: with the carabiner, the toy can be interchanges at the fishing rod. Your cat is going to love this…

Here is what you'll need:
+ Wool
+ Round bar
+ Bell
+ Feathers
+ Carabiner
+ Twine
+ Wire
+ Fabric Glue
+ Pliers
+ Awl
+ Long needle
+ Bowl
+ Terry cloth
+ Tape measure
+ Thick yarn



Wrap the bell with felt wool and form into a ball.



Immerse in lukewarm water.



Soak the ball and roll loosely in your hand.



Repeat the process until a solid ball is formed.



Let the ball dry and pierce a hole with the awl (here the strings are attached later).



Tie several feathers with yarn tightly. Then pull the yarn through the felt ball with a long needle.



Stick feather and string in the ball opening.



Determine the length of the thread and thread the carabiner at the end. At the end of the twine attach the end piece with the pliers.



For stability at the end of the ball wrap the feathers again with yarn and knot well.



Pull the yarn across the ball with the needle once.



Knot ends several times.



Wrap the wire around the rod and shape the eyelet (for attaching the carabiner).



Finished!



Try making a couple to attach for extra entertainment!