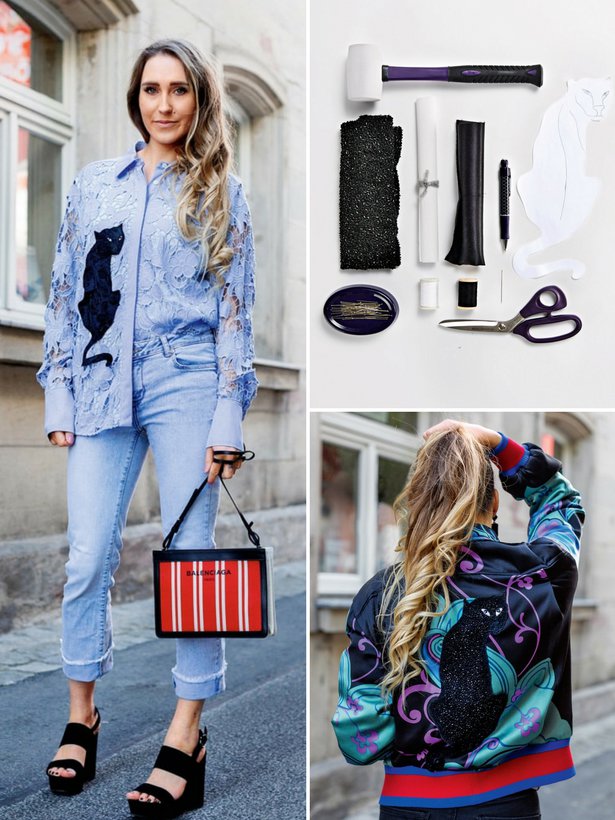 ShareThis
CHIC CATS: Made from lace, faux fur or beaded fabric. Cat appliqués add a touch of adventure to every wardrobe – and are a great way to use scraps!
Cats are jumping from the catwalks into the streets, as prints and appliqués.
MATERIALS:
- Beaded fabric (approx. 40 × 30 cm/ 16″ × 12″)
- Fusible web
- Lining fabric
- Thread
- Scissors
- Creative hammer
- Straight pins
- Needle
- Chalk pencil
- Pattern template (download here for free)

STEP 1: Fuse beaded fabric to wrong side of lining fabric, with the help of the fusible web.



STEP 2: Pin pattern piece to the lining side and trace outline with chalk pencil.



STEP 3: With the creative hammer, break the beads outside the drawn outline – this makes it possible to cut and sew accurately, later.



STEP 4: Cut out the shape along the chalk outline (do not add seam allowance!).



STEP 5: Stitch along cut edge with narrow, closely spaced zigzag stitches. Be careful! Stitch slowly, to prevent the needle from breaking.



STEP 6: Embroider eyes and nose with contrasting thread. Sew the finished appliqué to the garment, by hand.