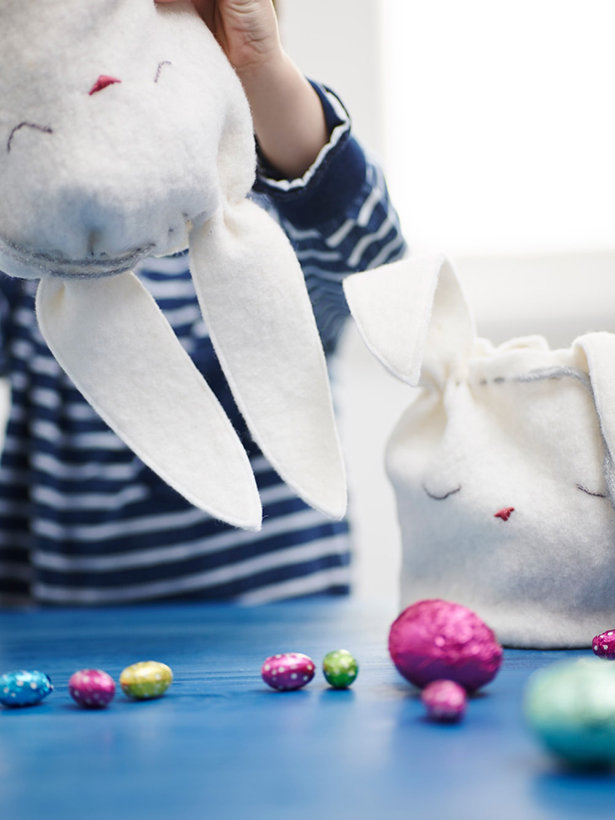 ShareThis
Easter is getting closer and closer and one thinks what to make first. This pouch in the shape of a rabbit not only makes every table more beautiful, but are also a sweet package for Easter gifts and treats. See how to make your own just in time for the Easter bunny.
First here is what you'll need:
-Wool fleece in cream
-Wool in gray
-Embroidery thread in pink and grey
-Vliesofix
-Thick woolen needle
-Scissors
-Pe-edles
-Ruler
-Yarn
-Pencil
-Printed template (download here for free)
Step 1: Cut out the templates 1 and 2 from paper (front part 1 at the dashed edge).
Step 2: Put both template pieces on the woolen fleece and cut with approx. 1cm near sewing (mark the seam allowance with pencil).
Step 3: Sew the seam of the pouch (1) at 1 cm. Then press open seam allowances and hold with pins.
Step 4: Pin circle (2) to the lower circular opening from part 1 (right sides together right) at 1cm.
Step 5: Cut out ear piece four times with no seam allowance.
Step 6: Using the Vliesofix, spray on wrong sides of ears and sandwich them with part 1. Press to secure.
Step 7: Topstitch around the ears.
Step 8: Using a thick woolen needle, pull the wool thread through the upper edge at approx. 1 cm (with the fixed ears double through the fabric, and through the individual layers to leave the opening).
Step 9: Hand stitch eyes and nose.