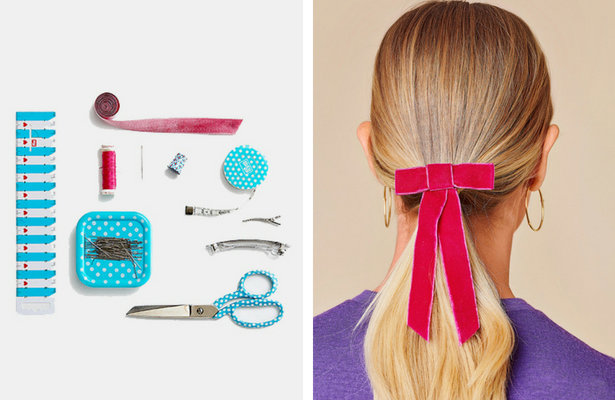 ShareThis
Hair clips with velvet bows make every day a gift and fit perfectly with a ponytail to elevate your hairstyle! All you need is some ribbon, a hand sewing needle, and a clip – then you are on your way to the hair's "it" accessory. Why not make one for you and all your friends!

+ Velvet ribbon
+ 1 Hair clip
+ Thread
+ Hand sewing needle
+ Scissors
+ Pins
+ Thimble
+ Tape measure
+ Scissors



Step 1: Cut the individual ribbon parts: 1 × 20 cm, 1 × 7 cm, 1 × 20 cm (one end beveled), 1 × 18 cm (one end bevelled).
Step 2: Put the first part (20 cm) into a loop and sew it by hand.



Step 3: Now put the small part (7 cm) left to right behind and sew one end up by hand.
Step 4: Now sew the two bevelled parts slightly offset from behind.



Step 5: Then fold the small part up and sew it from behind by hand.
Step 6: Finally attach the hair clip. To do this, either insert the hair clip and fix it by hand or sew the hair clip by hand.



Finished! Wear with you hair style up or down, or even half up for a perfect place to clip your bow. Love bows? Check out our most popular sewing patterns featuring bows below:



top left: Bow Back Blouse; top right: Bow Front Blouse; bottom left: Bow Neck Blouse; bottom right: Silver Bow Back Blouse
Happy DIYing!