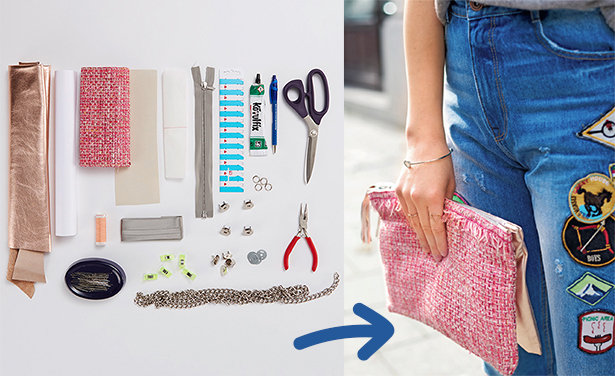 ShareThis
Use just one or all three, as a clutch or a shoulder bag. This casual accessory of bouclé and leather is held together with magnetic snaps and is extremely versatile! Read on to see how you can sew up one for yourself.
Detach the chains to make a clutch! But first, here is what you'll need to make yours…
Materials:
- Bouclé
- Leather
- Buckram (coarse linen or other stiffened cloth)
- 3 zippers, each 25 cm (10") long
- Thread
- Pins
- Scissors
- Ruler
- Bias tape
- Leather glue
- 4 magnetic snaps
- Large metal jump rings
- Ball-point pen
- Chain
- Fusible web
- Clips (buy here)
- Pliers
- Pendant pattern (download for free here)
Step 1- Cut bouclé to size of a DIN-A3 sheet of paper (11 5/8″ × 16 1/2") plus 2.5 cm (1") wide seam allowances on all edges.
Step 2- Bind the two shorter edges with bias tape. The zipper will be sewn between these two edges.
Step 3- Cut the pendant piece from leather. Cut the fringes in 1/8" wide strips.
Step 4- Pull fringed pendant into one jump ring and fold in half.
Step 5- Glue middle sections together. Let glue dry. Attach ring to zipper pull.
Step 6- Topstitch across the pendant, close to the ring and just above the fringes.
Step 7- To embellish the zipper ends, cut two leather pieces, each 8 × 4 cm (3 ¼" x 1 5/8"). Keep in place using clips.
Step 8- Fold pieces over ends of zipper and edgestitch in place.
Step 9- On shorter edges, press seam allowances with bias tape to wrong side. Pin zipper under these edges.
Step 10- Working from the outer side, edgestitch the fold edges of the fabric to the zipper tapes.
Step 11- Stitch side seams, catching one leather loop (4 × 1 cm/1 5/8″ × 3/8") in each seam, 3 cm (1¼") from upper edge. Bind seam allowances with bias tape.
Step 12- Magnetic snaps: On wrong side of one side of bag, adhere 2 leather pieces (with fusible web), 3.5 cm (1 3/8") from upper and side edges. Mark snap positions. Cut leather, for snap prongs.
Step 13- Attach magnetic snaps.
Step 14- Then, with leather glue, glue leather pieces over snap backs. Please note: Attach magnetic snaps to both sides of the middle bag!
Step 15- Strap: Cut buckram (20 × 1.5 cm/ 8″ × 5/8") and leather (20 × 6 cm/ 8″ × 23/8"). Fold one long edge of leather over buckram and glue in place. For loops, catch a strip (1 × 5 cm/ 3/8″ × 2″) at each end.
Step 16- Fold small end strips in half, to form loops. Spread glue on right side of folded-over leather edge. Fold remaining long edge of leather over and press firmly in place.
Step 17- Topstitch close to all edges of folded leather piece. Then carefully and neatly trim away the extending leather edge.
Step 18- With jump rings, attach chain to ends of leather piece and to side loops on bag.
Step 19- Press jump rings securely closed, with the pliers.
TERRIFIC TRIO
Sew the outer bag and the middle bag of leather exactly as described in the steps above!