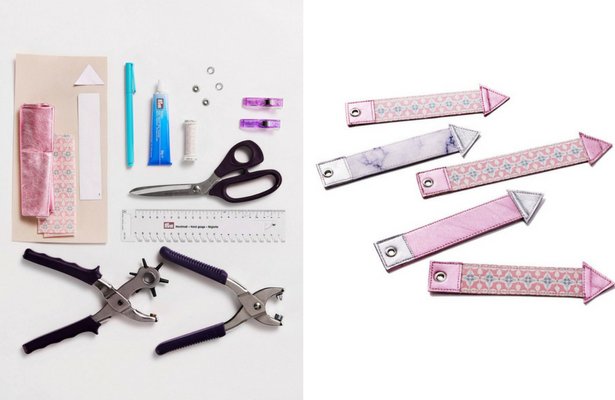 ShareThis
Bookmark for sewing – These trendy bookmarks help to organize any calendar or day planner. In addition, they are also perfect gifts that can be made from fabric scraps. How these bookmarks are made is explained in the steps below…

Complete your planner with the matching Binder pencil case to really keep organized.



+ Leather
+ Cotton fabric
+ Decovil (Vilene)
+ Pencil
+ Thread
+ Clips (Clover)
+ Metal eyelets
+ Textile glue
+ Scissors
+ Ruler
+ Hole punch
+ Eyelet pliers
+ Pattern template (download here for FREE)



Step 1: Trace template on decovil.
Step 2: Cut template from Decovil.



Step 3: Iron Decovil to the wrong side of my fabric.
Step 4: Mark 1.5 cm seam allowance on both sides.



Step 5: Cut out of fabric along added seam allowance lines.
Step 6: Fold both seam allowances onto Decovil and glue in place, with textile glue.



Step 7: Cut one arrow point from leather. Edgestitch to one end of fabric-covered Decovil piece.
Step 8: Cut a leather strip, longer and wider than the arrow on all sides. Fold lower end onto end of arrow and edgestitch in place.



Step 9: Edgestitch all edges of arrow onto leather strip.
Step 10: Trim leather close to edges of arrow.



Step 11: Pierce the holes with the punch.
Step 12: Finally, attach the eyelets to the package with the pliers as per the instructions.



FINISHED! Make a bunch and fill your organizer with markings so you can easily find what you are looking for. Learn how to make the binder pencil case here too!