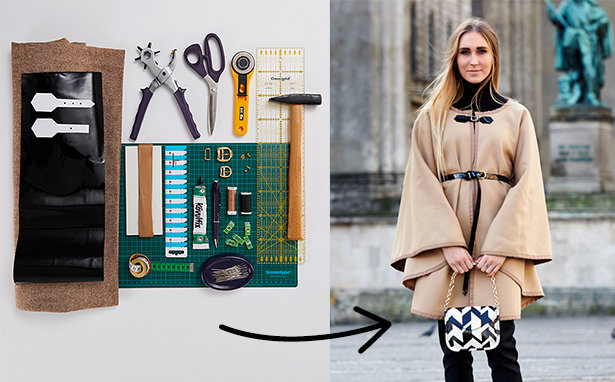 ShareThis
Transform a rectangle of fabric into a wearable cape. It is just what everyone needs – an easy-to-sew cape that makes a chic addition to every look everywhere and always! Read on to see how to make your own…
Materials:
- Wool fabric
- Leather
- Scissors
- Straight pins
- Chalk
- Ruler
- Tape measure
- Hole punch
- Rotary cutter and ruler
- Sewing thread
- Bias tape (approx. 9 m/10 yds)
- Clips
- Leather glue
- Belt buckles (2 cm and 1.5 cm/¾" and 5/8" wide)
- 2 double-headed rivets
- Cutting mat
- Hammer
- Pattern for buckled closure (download for free here)
Step 1- Fold wool fabric (approx. 1.80 × 1.50 cm/72″ × 60″) in half twice, lengthwise and widthwise.
Step 2- With chalk, draw a quarter circle. Cut along the chalk line.
Step 3- Unfold once (leaving folded in half). Cut neck hole at centre of fold edge. Now cut along the centre front (only one fabric layer!).
Step 4- Pin bias tape over all edges (hem edge, centre front edges, and neck edge).
Step 5- Edgestitch bias tape in place.
Step 6- At waist level, approx. 40 cm/16" to right and left of centre front, work 2 cm/¾" long buttonholes, for the belt.
Step 7- For the belt, cut two leather strips, each 2 × 1.30 m (¾" x 52"), with the help of a rotary cutter and ruler. Trim one end of each strip to a point.
Step 8- Glue (leather glue) both leather strips exactly together and let dry for approx. 10 minutes.
Step 9- Topstitch close to all edges of belt. To help feed the leather, lay the small sewing ruler under the presser foot.
Step 10- Punch hole in belt, 7 cm (2¾") from straight end. Run straight end through buckle, fold end under, and stitch in place, 3 cm (1¼") from end.
Step 11- Pull loop onto belt and stitch in place 3 cm (1¼") from end.
Step 12- Punch holes in opposite end of belt as needed.
Step 13- Insert a double-headed rivet to secure the belt end. Sew the leather buckled closure as described for the belt.