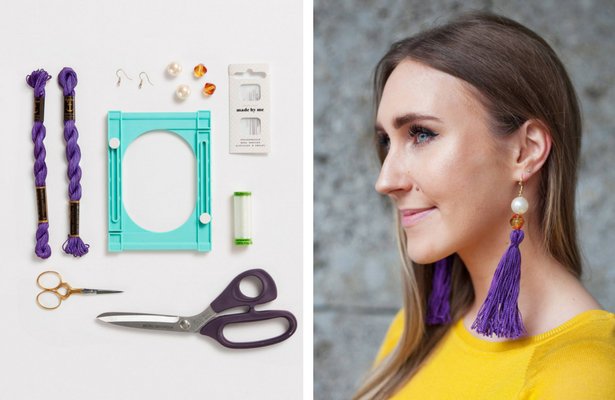 ShareThis
ALL EARS. If there is one accessory Burda loves, it's tassel earrings and here we bring you another way to make them – and this time with beads. Read on to see how to make…

Bright tassel earrings are all over the stylish streets of Paris and Milan as pictured above.



MATERIALS:
+ Tassel Maker (Clover)
+ Thread (Anchor)
+ French ear wires
+ Beads
+ Transparent thread
+ Beading needles
+ Scissors



Step 1: Slide the frame open to the desired length and tighten the screws to secure. Wrap the thread around the frame as often as needed (here approx. 20 times).
Step 2: Cut a piece of your thread and tie it tightly around the centre of the thread bundle.



Step 3: Slide the scissors into the upper and lower grooves of the frame and cut the upper and lower thread loops open.
Step 4: Fold the tassel in half. With a new piece of thread, tie off the "head", approx. 1 cm (3/8") below the top.



Step 5: Trim the ends of the tassel to the same length.
Step 6: Trim the ends of the threads which were used to tie the centre and the "head".



Step 7: Knot transparent thread into the head of the tassel. Thread two beads onto both transparent thread ends, with the help of a beading needle.
Step 8: Finally, knot the transparent thread ends onto the French ear wire and trim the ends. Make the second tassel earring identically.



FINISHED! Wear them with a casual outfit or to top off a wow look – extra-long tassel earrings of thread and beads always look great!
Click here to see how to make another version with no beads in only 3 steps!