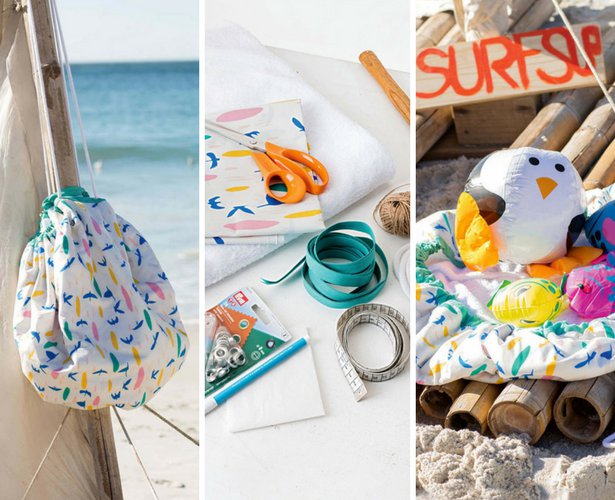 ShareThis
A practical bag can also be fun. This one includes a terry cloth one inside so that it quickly becomes a beach towel – simply loosen the cords! Download the FREE pattern here and read on to see how to make…
This fun and functional beach bag AND towel debuted in our Kid's Ahoy! pattern collection from the 07/2017 issue of BurdaStyle magazine.

Here is what you'll need:
- Pattern measurements download
- Cotton fabric
- Terry cloth fabric
- Double fold bias tape
- Eyelets Ø 8 mm
- Tape measure
- Pliers or hammer
- Scissors
- Straight pins & safety pins
- Hand sewing needle
- Thread
- Bondaweb
- Cording
- String
- Marking pen



STEP 1: Determine the final size of the towel, use string and pen to trace from the radius onto the terry cloth and cotton, cut out.



STEP 2: Place cotton and terry cloth wrong sides facing and sew together close to the outer edge.



STEP 3" Measure the perimeter. Cut two lengths of bias tapes and sew them together along one long edge. Stitch one long edge of bias tape along the perimeter as shown.



STEP 4: Mark placement of eyelets and reinforce the area with a bit of Bondaweb and a scrap of fabric.



STEP 5: Follow package instructions to attach the eyelets through the bias tape.



STEP 6: Wrap the bias tape over to the front and topstitch in place.



STEP 7: Use a safety pin to pull the cord through the casing. Sew the cord ends together by hand.



Sew this up this up today and bring to your next beach adventure!


Happy DIYing!