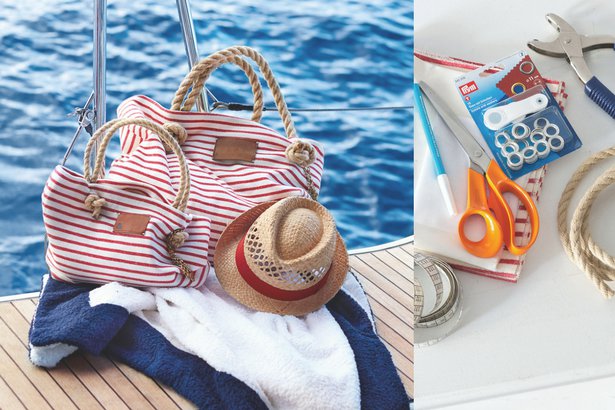 ShareThis
Everything needed for a day at the beach easily finds room in these striped bags. Cut, sew, and head for the beach! Read on to see how…


Materials:
- Beach bag pattern drafting measurements
- Sweatshirt fabric or terry cloth
- Cotton fabric for lining
- Cord
- Metal eyelets (Prym)
- Eyelet pliers or hammer
- Scissors
- Vanishing marker
- Tape measure
- Drafting triangle
- Fusible interfacing



STEP 1: Cut main fabric and lining fabric, following the diagram. Mark facing width on right side of fabric.



STEP 2: Iron a wide strip of interfacing to wrong side of fabric, over marked area for facing.



STEP 3: Pin each lining piece to facing edge of main fabric piece, right sides together. Stitch 1.5 cm (5/8") from edge.



STEP 4: Press seam allowances toward lining. Working from outer side, topstitch lining 7 mm (¼") from seam.



STEP 5: Pin main fabric and lining units together, right sides facing. Stitch base and side seams…



STEP 6: …leaving an opening in base seam of lining, for turning.



STEP 7: On both main fabric and lining, pin each side seam to base seam. Stitch across corners. Turn bag right side out.



STEP 8: Turn facing and lining to inside and press upper edge. Mark eyelet positions, 9.5 cm (3¾") from side seams.



STEP 9: Insert metal eyelets, following manufacturer's instructions.



STEP 10: Cut cord or rope in half. Pull ends through eyelets and knot to secure.