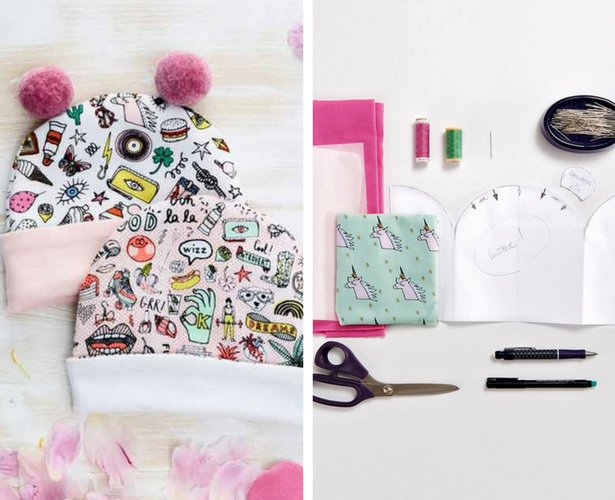 ShareThis
Baby's first trendy accessory. Jersey caps are darling and very quick to make – and they make wonderful gifts!

Here is what you'll need:
+ Jersey fabric
+ Thread
+ Paper
+ Hand sewing needle
+ Scissors
+ Chalk pencil
+ Straight pins
+ Pen
+ Pattern pieces (download here for free)



Cut 2 fabric rectangles, each 36 × 20 cm (14 ¼" x 8"). Fold each, right side facing in. Stitch narrow edges together with zigzag stitches. Lay each piece so that seam lies along centre. Lay pattern piece on fabric and draw curve.



If you want the cap to have ears. Cut out four fabric ear pieces, adding 1 cm (3/8") wide seam allowances.



Lay pairs of ear pieces together, right sides facing, then lay them on a piece of paper – the paper prevents stretching when stitching. Stitch along curved edge. Carefully remove paper.



Trim seam allowances to 2 mm (a scant 1/8"). Turn ears right side out and press smooth.



Slide ears between layers of one cap piece and pin in place. Lay each cap piece on paper. Stitch along curved edge. Remove paper.



Trim seam allowances of each cap piece.



Lay one cap piece in the other, right sides facing. Stitch lower edges together, leaving approx. 4 cm (1¾") open, for turning.



Turn cap right side out. Press seamed edges. Sew seam opening closed by hand.