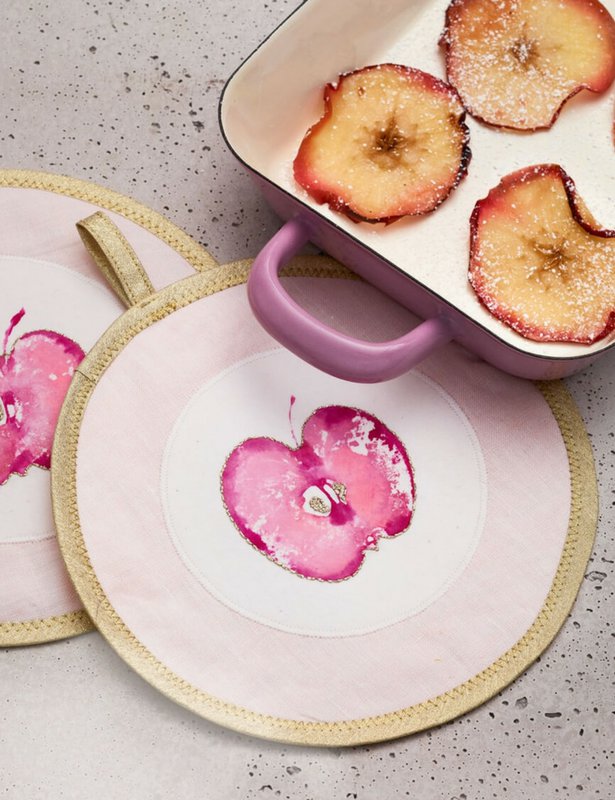 ShareThis
Autumn brings apples – to the kitchen and as decorations! These unique hot pads are easy to make and will surely impress your guests…

Here is what you'll need:
+ Linen fabrics
+ BondaWeb
+ Batting HH 650 (Vilene/Pellon)
+ Brush
+ Textile paints
+ Compass
+ Threads
+ Machine needle for metallic threads (Schmetz)
+ Bias tape
+ Pins
+ Needle
+ Scissors
+ Ruler
+ Knife
+ Apple
+ Pencil



Cut apple in half. Paint cut side with textile paints. Make a test print on paper. Then cut a fabric circle, approx. 12 cm (4¾") in diameter.



Press painted apple in center of fabric circle. Let paint dry thoroughly then iron, to fix the paint.



With golden embroidery thread, outline the apple and embroider the seeds (first stitch the outline, then fill it with satin stitch).



Cut a 2nd fabric circle, 20 cm (8") in diameter. Adhere the small circle with apple print to the centre, with fusible web. Stitch edge of smaller circle in place, with narrow zigzag stitch.



Cut circles, each 20 cm (8") in diameter, from fabric and batting.



Iron all 3 layers together.



Stitch through all 3 layers, 0.5 cm (3/16") from outer edge.



Pin bias tape around outer edge and stitch in place. Fold bias tape over edge to back, fold raw edge under, press, and pin in place.



For hanging loop, cut a piece of bias tape, approx. 10 cm (4") long. Edgestitch long edge closed. Fold in half and pin ends under bias tape.



Fold in half and pin ends under bias tape. Stitch bias tape in place, with zigzag stitch.



FINISHED! These adorable apple hot plates are perfect for autumn dinner get togethers.



This technique can also be used to create coasters!



And used to mark bottles if your making apple cider.



Lastly can be used for labelling apple tea!