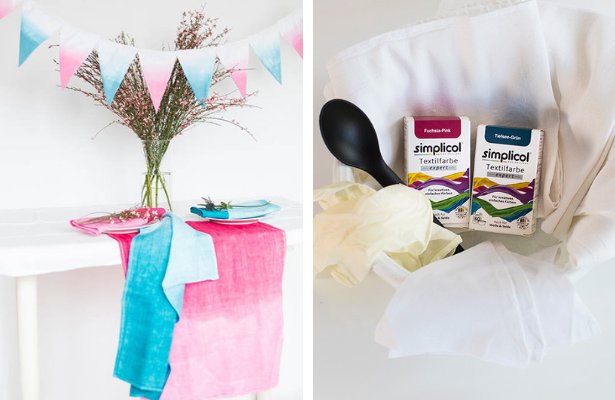 ShareThis
What would a summer party be without the right decoration? With these napkins and garland in the ombré dip-dye look, you'll be guaranteed to be a good mood for your party! Or you can use to add some personality and vibrancy into your apartment decoration – and also treat fabric for your next summer sewing project…
Images: © Simplicol

MATERIALS:
+ Fabric dye
+ Cloth napkins old or new
+ Pennants or trimmed scraps of fabric
+ Dye Fixative
+ Spoon
+ Hot water
+ Big bowl or pot
+ Rubber gloves



Step 1: Add six liters of 60 ° C warm water to a plastic bowl or bucket. You can get the temperature by mixing four liters of boiling water with two liters of cold water.
Step 2: Wear disposable gloves and mix the batch with about 1/5 of the package until the paint has completely dissolved.



Step 3: Dunk in the fabric completely and dye for a few minutes until a light, continuous tone is achieved.
Step 4: Depending on the desired color intensity, mix further portions of color or the entire contents of the pack, and dye the textile Gradually (for example, 3 stages of 5 minutes each). The color becomes lighter again after washing and drying. The transitions / steps become even more washed out by continuous drowning and pulling out.



Step 5: Another option, depending on your preference, you can only partially color the fabrics.
Step 6: Wash the fabrics under cold water until no more color comes out and then fix in the fixer bath.



FINISHED! Upcycle old napkins, scraps, and more with this technique and throw a summer bash to kick off the season. Want to bring this style into your wardrobe too? Check out these patterns below:



left: Batik Dress; middle: Side Seam Tank; right: Batik Trousers