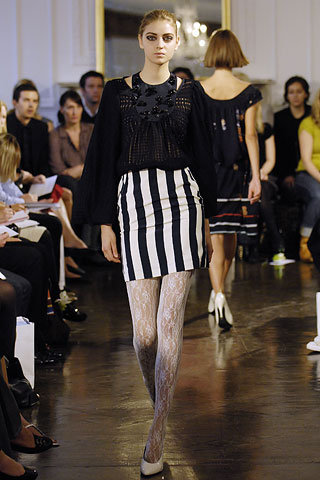 ShareThis
London was slumping for a while. McCartney, McQueen, Galliano and the rest of the Cool Britannia crew decamped for Paris a long time ago, urged on by high-profile gigs at storied houses, and the back bench of young talent that London had always nurtured seemed to disappear, en masse, only to turn up in New York. But the tide is turning: Marc Jacobs is celebrating the opening of his UK flagship by presenting his Marc by Marc line in London this season, English designer Sophia Kokosalaki has taken up the challenge of relaunching Vionnet, and Nathan Jenden, the man behind Diane von Furstenburg's line, is moving his eponymous collection to London after several seasons fighting the crowds in New York. And in the meantime, a whole new generation of designers is making London a mandatory fashion stop once again. Here are a few of the best.
Erdem Moralioglu is half-Turkish, was raised in Canada, and earned his fashion stripes at Diane von Furstenburg. On the other hand, he's also half-English, a graduate of England's Royal College of Art and the winner of the British Fashion Fringe award in 2005, so London is as natural a home base for his Erdem line as anywhere else. What makes Erdem intuitively English, however, is its aesthetic an urbane mix of English dandy, English punk, English eccentric, English gentry and English tailoring.
Christopher Kane didn't pull any punches for his debut collection: The super-tight, super-mini dresses the 25 year-old designer sent down the runway last season served notice of a talent on the march. Though the Kane look owes something to '80s-era Versace and the banded Leger dresses now making a comeback, he made the references serve him, and not the other way around, by means of an LSD-trip palette and a penchant for idiosyncratic vintage detail.
London's Fashion East show generally has one standout, and last season, Danielle Scutt was it. Like her fellow Central Saint Martins grad Christopher Kane, Scutt does body-conscious dressing with an exclamation pointbut her collection's real drama was in its playful sense of proportion, pattern and shine.
Another Fashion East alumnus, Austrian-Greek designer Marios Schwab has a more subdued take on sexy than most of his peers. The clothes he showed last season were all in muted, Armani-esque colors, and hearkened back to the master, Alaia, in their precise and inventive cuts. But make no mistake Schwab's glamazons could go toe-to-toe with any jetset vamp. With stealth on his side, Schwab made Spring '07's most convincing case for bringing sexy back.