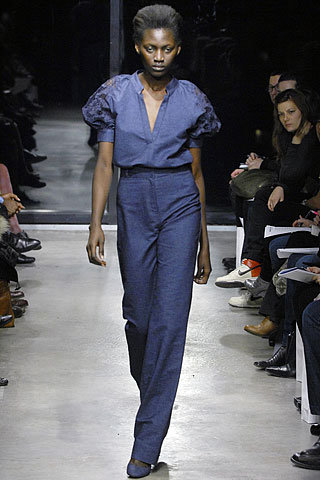 ShareThis
Fashion is an industry that eats its young. This is generally to the goodfor the most part, the hacks and dilettantes fade away, while the visionaries become stars and the reliable churn out sportswear. And every season, the stylish place their bets on the Next Big Thing.
Rather than join in the anointing of untested talents, this season it seems appropriate to celebrate a few New York designers who've stuck around and come into their own.
Philip Lim already has one blockbuster brand to his creditDevelopment, the L.A.-based sportswear line he helped to launch then swiftly departed. 3.1. Philip Lim is better: Distinctive yet wearable, frothy but urbane, the line absolutely deserves the success it's already had, and the wider audience it will no doubt be getting. Lim is going to the stratosphere this time.
Five years ago, Nicole Noselli and Daphne Gutierrez were the designers to watch: Their label, Bruce, had won them the coveted CFDA award for new talent, and even years later the clothes they made look cutting-edge. Then Bruce disappeared. But now Bruce is back, after an almost four-year hiatus. Together with the Katayone Adeli's resurrection with KA7, and the resurgent Daryl K., the return of Bruce augurs the re-emergence of a particular kind of New York style, tough yet tailored, feminine but a touch punk, and made to be lived in.
Jeffrey Costello and Robert Tagliapietra are no overnight success story: The two-time VOGUE/CFDA Award finalists had been honing their craft for a long time before the red carpet stylists came calling. But the past few seasons have seen the pair simultaneously broaden the scope of their line, Costello Tagliapietra, and sharpen its focus. The result: Pitch-perfect dresses in the classically American tradition of Norman Norell, Claire McCardell, Halston and Bonnie Cashin. More specifically, Costello Tag's luxe, jersey-blend dresses emblemize go-anywhere, anytime New York City style: Uptown and down, from the East River to the Hudson, day in and night out, they are as easy to wear perfectly as they are perfectly sexy.