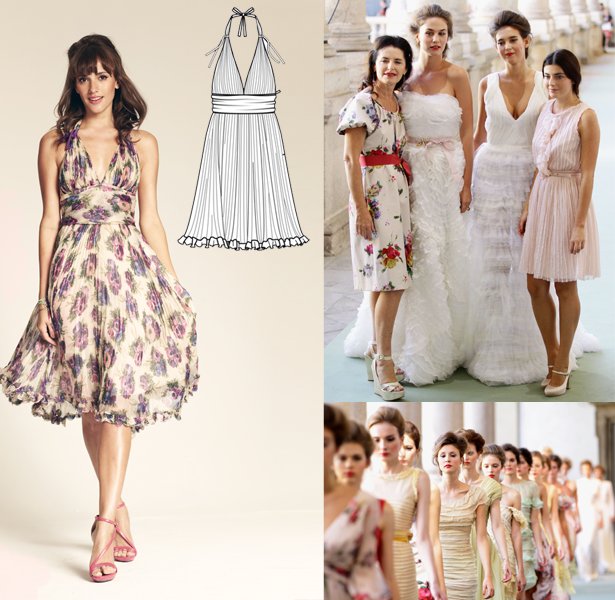 ShareThis
We have another designer pattern for you! Check out this wonderful dress designed by renowned fashion designer Luisa Beccaria. Read about the designer and this pattern, now available on BurdaStyle.com.
Milan-born and based Luisa Beccaria launched her line of sweet, ruffled cocktail dresses in 1979, introducing a line of feminine cuts in soft textures that has become a staple of the designer ever since. Her artistic vision is drawn from an array of cultural experiences fused with vivid imagination. The result is a dreamy style that is glamorous, elegant, and feminine. Soft muted colours, luxurious fabrics, sensual shapes, and inimitable details, combined with Luisa's signature extravagant chic, give her pieces their sophisticated allure.

Luisa Beccaria and her daughter Lucilla aknowledge the applause of the public after the Luisa Beccaria Spring/Summer 2012 fashion show as part Milan Womenswear Fashion Week
The label went into the couture world when she was invited to participate in the 'Alta Moda' shows in Rome from 1991 to 1993. Together with Valentino and Versace, she was then invited to Paris by the Chambre National de la Couture to participate in the haute couture shows from 1993 to 1995.
She ultimately returned to ready-to-wear in Milan and in 2001, Beccaria turned down the top design post at Chloé to focus on expanding her line.

From the runway of the Spring/Summer 2012 fashion show in Milan
With her signature flouncy dresses in frothy tiers and floral prints, Beccaria's designs remain constant to her romantic vision for women.

The dress pattern designed by Luisa Beccara, now available here on BurdaStyle
Beccaria is now sharing one of her designs with all of us and you can get your very own romantic Beccaria look! Her Dress Pattern has her signature features like ruffles and pleating. It has a great A-line silhouette that is super flowy and free. This dress also has a flattering wide waist belt and cute shoulder ties. You could easily wear this dress in the day or evening, and it is the perfect dress to wear to all your summer activities! To achieve a look that is truly Beccaria, we suggest making this dress in a pretty floral.
Have a passion for fashion designer sewing? Try making our other designer patterns.
Alberta Ferretti Dress
Karl Lagerfeld's Mini Skirt
Karl Lagerfeld's Jacket Pattern
Happy designer sewing!