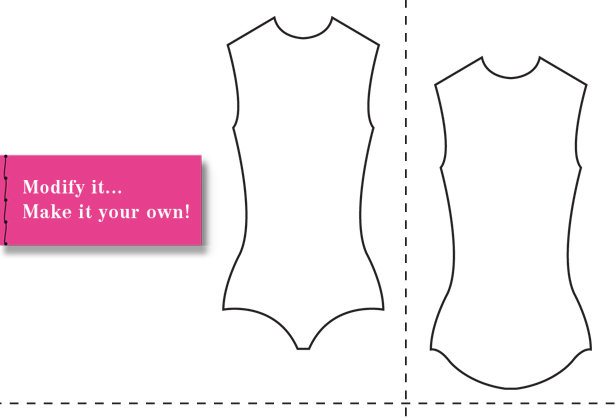 ShareThis
Previously and with great success we launched our Bodice and Skirt Slopers as well as our Pant Sloper. We love the aspect of transforming a basic template "sloper" and modifying it to make your own design. We developed this Swimwear Sloper to be easily adaptable. Transform it into a retro style maillot, a bikini, or an edgy one-piece with cutouts!
The swimsuit sloper has many fit adjustment lines and body reference lines like the bust radius circle. This makes sure that when drafting lines onto the sloper pattern it is easy to visualize where they will fall on the body.
The sloper is available in sizes: 32/24, 36/38, 40/42, 44/46
But before you make any style modifications and cut in fashion spandex fabric we suggest cutting the full swimsuit sloper in your size in a basic spandex to determine fit and make any necessary adjustments in the length and or width before you start designing!
At the waist and crotch level there are length adjustment lines where you can remove length (by folding the lower line to the upper), or adding length by slashing the pattern and adding more paper.
Tip: Measure your torso measurement by placing a measuring tape at your shoulder line and laying the tape measuring tape down your center front and through your crotch area and back up your center back until it meets the initial starting point at shoulder line (this is easier to do with someone else). Then take that measurement and divide by two, and compare it to the sloper pattern length from shoulder tip to crotch point.
Here is an example of how easy it is to convert this full swimsuit sloper into a two-piece bikini! There are so many possibilities with this sloper to design and make your own swimsuits this season.
In the near future here on BurdaStyle.com we will be producing more tutorials and ways to use this sloper, which swimsuit style would you most be interested in creating?
Happy Sewing!