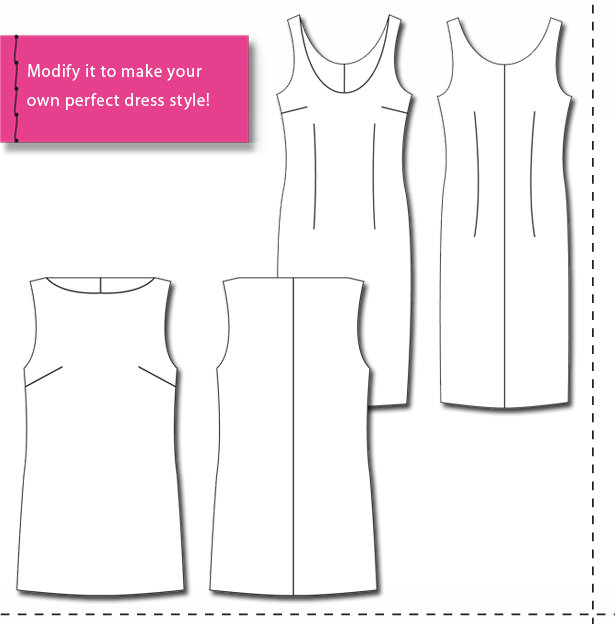 ShareThis
Ever wonder how to make a dress pattern? Well you need a starting point, and a dress sloper is just the thing. Unlike the bodice and skirt slopers, these dress slopers have no waistline seams so you can easily add panels and details to draft and sew your perfect dress! We are introducing two new dress slopers to our sloper library including the semi-fitting Basic Shift Dress Sloper, and our slim-fitting to the body Basic Fitted Dress Sloper
Get the basic dress slopers available in sizes 36, 38, 40, 42, 44:
Fitted Dress Sloper
Shift Dress Sloper
Use the fitted sloper pattern to make those nice fitting dresses and add all the panels and details you want. If your wanting a more loose fitting everyday dress the semi-fitting shift dress is perfect! Add details like cute collars and pockets to make a practical dress that really says you.
Not sure how to work with a sloper? No problem BurdaStyle.com has an excellent selection of resources to help you in your pattern making and sewing journey!
For very visual tutorials on pattern modifications check out the BurdaStyle Video streaming site, specifically these sections:
Working with Patterns
Pattern Making
These Web Seminars are also very extensive and provide excellent instruction when working with flat pattern making:
How to Modify Pattern Styles
Pattern Drafting: Bodice and Skirt
How to Transfer Style Lines from your Fashion Sketch to your Pattern
Transformational Reconstruction
How to Modify your patterns
Plus Size Pattern Grading
For tips on designing patterns you can also check out this informative web seminar Fashion Principles: How to Design an Aesthetically Pleasing Garment.
Happy Sewing!
Be sure to check out all of our other sloper patterns like our:
Bodice and Sleeve Sloper
Skirt Sloper
Pant Sloper
Swimsuit Sloper