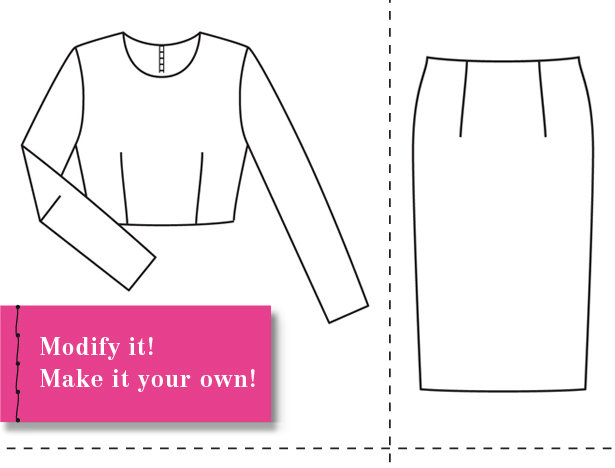 ShareThis
Ever just looking for a basic pattern that you can modify and work from to create your own sewing pattern design? Look no further than these new bodice and skirt sloper patterns. You can adjust the Basic Bodice and Sleeve Sloper to make many blouse, top, and shirt designs. Or we also have a basic Skirt Sloper in which you can draft virtually into any skirt design that is on your mind! We suggest getting both so that you can make your own dress styles. New to pattern making? No problem, check out this post for great references in drafting your own patterns form basic slopers.
What are Slopers, and Drafting?
-A sloper Is a basic pattern with no seam allowance or style lines. Can also be referred to as a block, foundation, or template.
-Drafting is a mechanical method, that uses precision to establish pattern lines directly on pattern paper based off body measurements & ease allowance
-Pattern development and drafting, requires reasoning, creativity, and manipulative skill
-A fraction of an inch makes a difference !!!!!
Get the basic slopers avaliable in sizes 36, 38, 40, 42, 44:
Bodice and Sleeve Sloper
Skirt Sloper
If you want to learn more about perfecting the fit of your sloper to your body measurements then be sure to check out our Pattern Grading Web Seminar where you will learn how to compare measurements on your body with those of the pattern and make the necessary alterations BEFORE sewing the first sample.
For very visual tutorials on pattern modifications check out the BurdaStyle Video streaming site, specifically these sections:
Working with Patterns
Pattern Making
These Web Seminars are also very extensive and provide excellent instruction when working with flat pattern making:
How to Modify Pattern Styles
Pattern Drafting: Bodice and Skirt
How to Transfer Style Lines from your Fashion Sketch to your Pattern
Transformational Reconstruction
For tips on designing patterns you can also check out this informative Fashion Principles: How to Design an Aesthetically Pleasing Garment.
Happy Sewing!