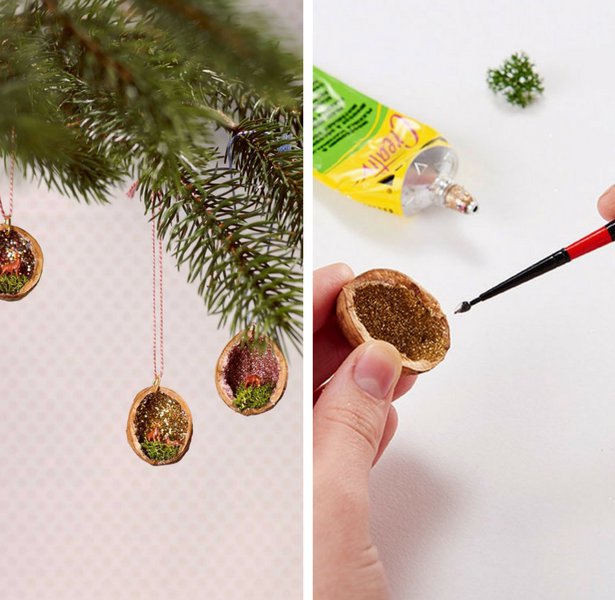 ShareThis
The scent of pine needles, footsteps on crunching snow, the smell of cinnamon, candlelight, choirs… Everyone has their own idea of ​​what should not be missing in a harmonious holiday season. Most of the time it's childhood memories that have shaped us forever. This DIY miniature staged scene in a nutshell is adorable and makes our hearts burst at Christmas. Fill your tree this season with these hand made pendants. Read on to see how to make yourself! Also make is a family affair and let the kids help…

+ Tongs
+ Scissors
+ Tweezers
+ Embroidery thread
+ Brush
+ Small brush
+ Cutter
+ Glue
+ Decorative paste
+ Walnut
+ Eyelet
+ Deer figure
+ Moss



Carefully open the walnut along the "seam" with the cutter and remove (eat) contents.



Spread the inside with the decorative paste…



… And sprinkle generously with glitter. Let dry.



Then spread with glue and apply moss (possibly with tweezers).



Brush the animal's leggings with glue and also stick with tweezers in the nut. Let dry.



Use the pliers to bend the eyelet…



… And attach to the top of the nut.



Cut the yarn for hanging and thread it through the eyelet – done!



Also try filling will little jewels, figures of other animals like cats or dogs, or anything you like.