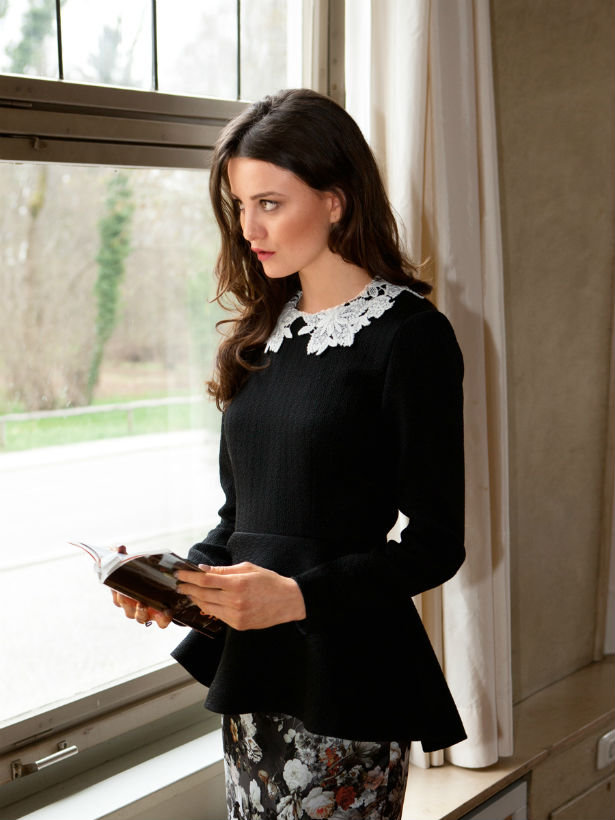 ShareThis
With the right fabrics and embellishments, collared shirts and dresses are just as fashionable for a night out as they are at the office. Get inspired by these celebrity looks, and sew your own stand-out collared garment!
Collars of all kinds are popping up lately, on the red carpet as well as for everyday wear. It's not exactly a new design, but the classic, conservative appearance of a button-up collar allows some room for experimenting. You can play around with bold gems, edgy studs, or sultry sheers and laces to update the look.
Even something as simple as using a contrasting fabric for the collar can make a major impact. Demi Lovato's pretty floral Temperley London dress is given an edge with a jet black collar. You could sew a printed collar with a solid fabric, a solid collar with a printed fabric… or mix and match prints for a totally unique look! Get creative with collared dresses like the Keyhole Dress, the Peter Pan Collar Dress, or the Collared Godet Dress.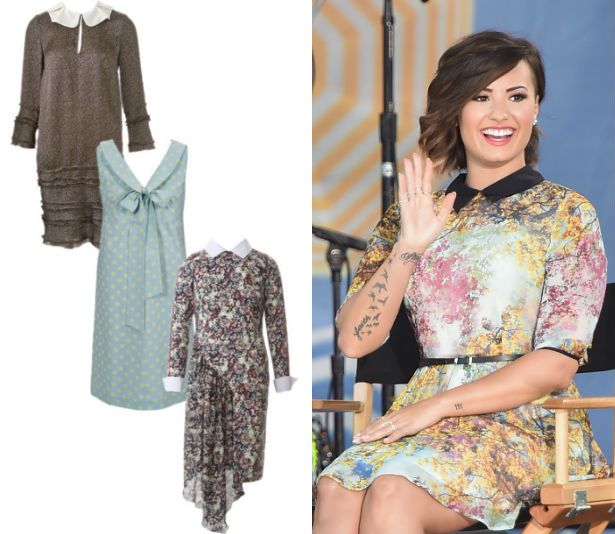 You can't go wrong with black and white! Mel B's Valentino mini-dress looks both chic and classy, and the lace fabric makes it a suitable choice for a night out. Binding along collar edges, seams and cuffs is another way to add modern flair to a traditional design. Get the black-and-white look with the Lace Collar Top, Chiffon Blouse, or the Peter Pan Collar Dress.
Hand-sewn embellishments enhance Dakota Fanning's basic sleeveless top. You could add a personal touch to your sewing projects with sewn-on accents, as well as update any simple collared garments already in your closet. Start out with a classic blouse design, like the Cropped Chambray Blouse, Short Sleeve Wrap Blouse, or the Pleated Neckline Blouse, and add on gemstones, studs, embroidery, grommets, beads, buttons, or other trims of your choice.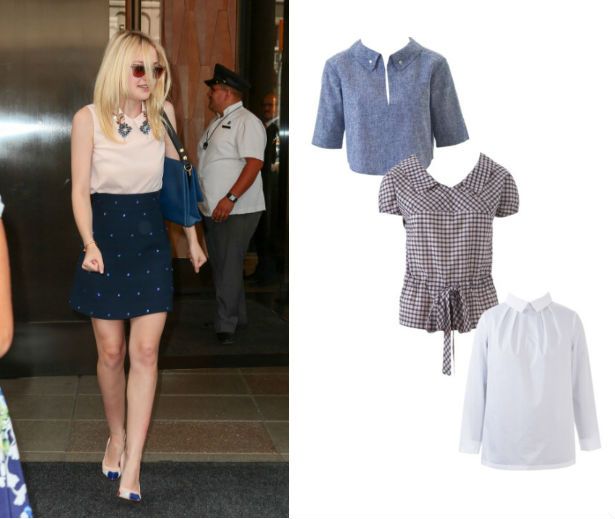 Whichever collared pattern you choose to sew, you don't need contrasting colors to stand out. An embellished or embroidered all-over fabric gives an understated silhouette a stylish, polished finish. This powder blue Honor dress has the perfect amount of shimmer, while Chloe Moretz's multi-tonal Valentino macramé dress leaves a lasting impression. Intensify a staple style with a dazzling fabric!
Incorporating sheer cutouts is another great way to use your fabric to highlight the collar while showing a little more skin. A see-through chest section or plunging neckline definitely adds an unexpected twist to a traditional button up.
You can spice up any collared garment with savvy fabric choices or eye-catching accents. You can even modify the shape of the collar, or draft a collar for the neckline of an un-collared garment. This is the perfect back to school look!
How will you be wearing this versatile trend?
Photos: Getty Images