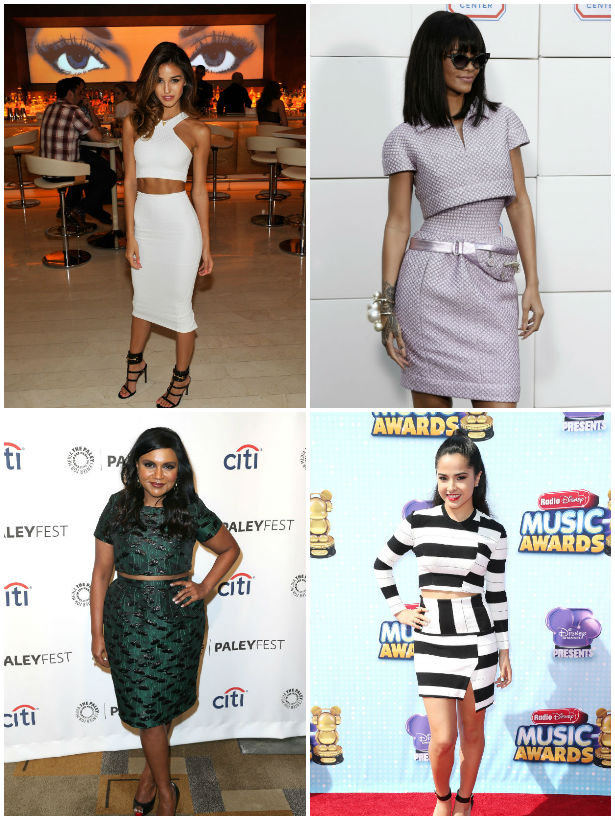 ShareThis
Crop tops have stolen the spotlight from dresses this season, with chic crop top and skirt combos dominating the red carpet… and everywhere else. Basically worn as a two-piece dress, there are endless ways to customize this lasting trend and make it your own. Check out some of our favorite styles and get inspired for summer sewing!
What's great about the crop-and-skirt collaboration is that it really can work for anyone. With no fit or form specifications to follow, you can simply mix and match your BurdaStyle patterns until you find the perfect pair! You can also easily add a waist seam to a dress pattern, and with a few fitting adjustments, create your own separates.
Look effortlessly chic in a relaxed, breezy top like this cropped blouse or this V-neck crop top. A cute mini skirt or denim shorts keep this look light and fun. To really up the wow factor, pair the top with a sleek, fitted midi skirt for the perfect contrast.
A skirt worn with a cute bustier or short, high neck tank is a definite fashionista-favorite these days. Paired with a form fitting pencil skirt, this look is undeniably sizzling. Full, gathered skirts add the perfect amount of volume to balance out the fitted top. If you're going for gathers or pleats, choose an above-the-knee style for a fun, flirty touch, or a mid-calf length for a classic and elegant appeal.
Structured, unfitted crops are another summer must-have. Try the seamed crop top or this retro top (below) with a shortened hem. Balance out the loose fit with a streamlined skirt.
Don't feel comfortable with an exposed midriff? This style looks simply stunning worn over a sophisticated shift dress. Or wear a high-waisted skirt, and modify the length of your top so that it meets or hits just below the waistband. A sophisticated wrap blouse tied at the waist is another stylish way to cover up. Try sewing the top in a sultry sheer fabric and wear it over a bandeau or bustier.
Check out a gorgeous collared wrap blouse here. Add some high-waisted trousers and a chunky necklace and you've got a striking outfit for the office!
Matching tops and bottoms are popular when it comes to fabric this season, and it's not hard to see why. Matching separates really complete and polish an entire look. Mix it up and try an inverse print on top and bottom, creating a captivating mirror-image effect.
Will crop-top and skirt ensembles be a part of your summer wardrobe?