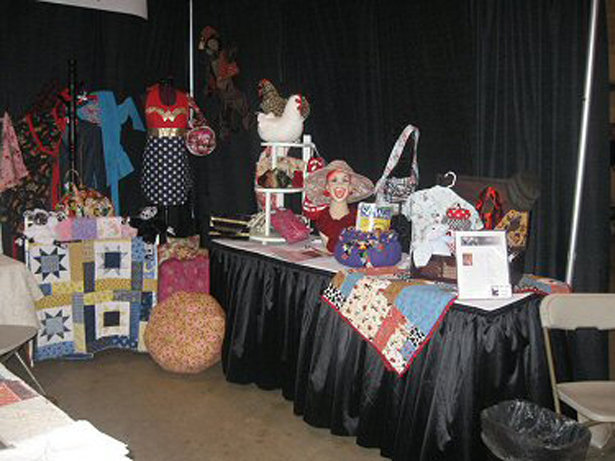 ShareThis
They say 'everyone has got to start somewhere' and for many of us, craft\art\quilt shows are the beginning. After many years of sewing, I had the opportunity to attend my first and learned a few things along the way:
We all know that how you display your items is almost as important as what you display. If you intend on saving money for your show(s) plan ahead and start shopping garage sales, estate auctions, and going out of business clearances for racks, shelving, and unique fixtures. Be sure to check with the show to see what they have available for use as well.
Come with a plan as to how you'd like your booth to look, but be prepared to alter it – you never know what sort of unexpected twists might happen (in my case, my booth size changed).
Bring more than what you think you'll need – or at the very least, bring lots of business cards. This makes it easy for customers to find you to order custom or out of stock items.
If what you make is 'wearable' (or even 'totable'), definitely show it off… on yourself! This not only gives everyone a good idea as to what it looks like on, but when you 'take a break' (even if it's only for a trip to the restroom) you become an instant billboard for your booth.
If you have a portable craft that you do, bring it with you. You never know when there will be lulls in traffic. Not only will you have something to bide the time, but you may make a dent in your next project!
Have a craft show tip you'd like to share? Be sure to leave a comment here!