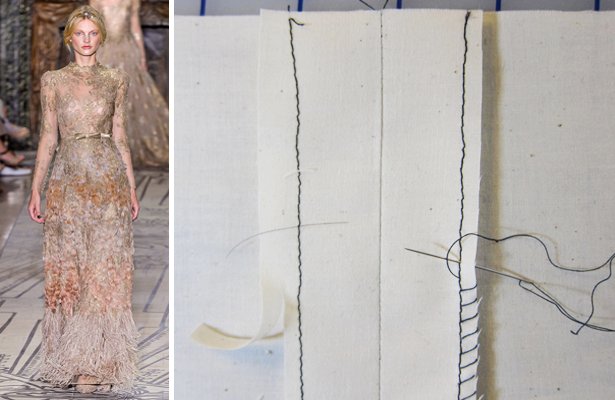 ShareThis
Honestly, I hardly know anyone who hand overcasts nowadays. Do you?
But the sewing nerd I am I could not resist making a case for it. You may say that hand overcasting takes ages, and that it is much easier to serge or zigzag the edges, or use Hong Kong finish, or anything else.
Yes, hand overcasting ain't a shortcut, but I could give you a reason or two why it is extensively used in couture:
First, provides a smooth, flat seam finish
It doesn't add bulk, or stiffness.
It is soft and flexible
Finally, you are in control of fabric: no stretching, no puckering, no gathering…
Are you convinced? Then, use hand overcasting anywhere you need minimum bulk and stiffness.
To get started you'll need a small needle (Sharps (general hand-sewing needles) No. 9 (34.9 mm.) or No. 10 (33.3) are the right sizes) and fine cotton or silk thread.
Often, when you try hand overcasting for the first time, you may find that it doesn't look as tidy as a machine stitch. Well, obviously, your overcasting will get more beautiful with some practice! My advice is to start with less slippery fabrics and make a sample using a couple of different threads. Pressing after your edge is overcast will also improve the appearance of the stitch as well as help blend the thread and the fabric.
I first used hand overcasting on a silk charmeuse blouse (Burda 9/2010, #110). The fabric was slippery but I had no choice – my sewing machine was broken and I wanted to have that blouse finished before I got a new machine. Once I pressed the seams and put on the blouse, I have become a convert to hand overcasting and couture sewing in general!

Fragment of the blouse.
Usually, hand overcasting is done on individual seam allowances by taking evenly spaced slanted stitches that wrap over the seam edge. Right-handers work from right to left, or away from the body (whatever is more comfortable). The direction is opposite for left-handed sewers. Insert the needle from under the edge, 1/16" to 1/8" (1,5 mm to 3 mm) deep. Take deeper stitches for fabrics that ravel more and decrease the space between the stitches.
When I was looking for some guides to make hand overcasting, I came across four ways to do it:
-The traditional way – where you neatly trim the raw edges and overcast as described above.
-You will also find examples where the edge is trimmed with pinking shears, providing a guide for hand-overcasting. I am personally not a big fan of this method, because the edge does ravel after a while and looks untidy. In addition, you won't be able to change the distance between stitches
-You could also make a straight stitch approximately 1/4" from the raw edge and then trim to 1/8" to the stitching line. This method also provides a very accurate guide for hand-overcasting with very little bulk. However, the machine stitching line will stiffen the seam allowance edge.
-This one is for fabrics that ravel really badly, work another row in opposite direction – a technique called "cross your hand"
So, that's all you need to know to start hand-overcasting! My final advice is: light some incense sticks, turn on some calming music and overcast away. And make sure your family checks in with you after a while.
~Marina
Marina von Koenig is a couture enthusiast documenting her learning experiences on her blog, Frabjous Couture.