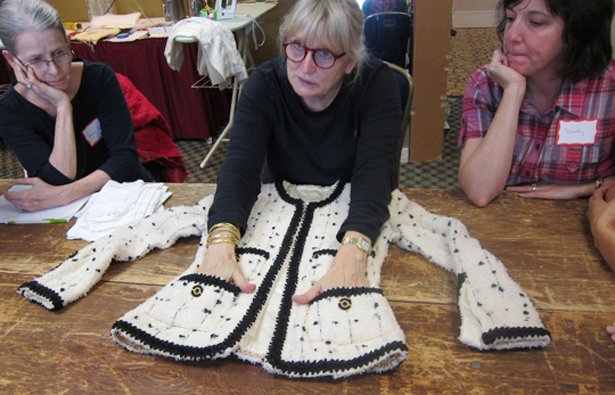 ShareThis
You may prefer quick sewing to lengthy couture hand sewing, but one thing is sure – couture sewing classes are in demand.
Earlier this April I contacted Claire Shaeffer, author of Couture Sewing Techniques and instructor, asking for information on her Chanel suit class. Imagine my surprise when I learned that all classes for 2011 were full and the first available class was in January 2012!
It was a discovery for me that there were so many people willing to invest money and time (a lot of time, actually) to learn couture sewing. Fortunately, there are quite a few learning options available for couture enthusiasts like myself, ranging from classroom instruction to online classes.
Most of these classes offer the foundation of couture sewing. "The technical base is the same throughout the couture," said Martine Houdet, one of Chanel's head dressmakers in an interview with Vogue a couple of years ago, "but after that you need to learn the technique of the house." And, while some of the techniques have been described by couture experts in books, magazine articles, (such as quilting on Chanel jackets, or light chains to weight hems), many of them are still a well-guarded secret.
If you are lucky and your instructors are industry insiders who have had hands-on experience – you will learn a lot. However, in couture – and that's what attracts me most – you will always be learning and looking for innovative ways to solve a construction problem. "There is always research to be done – every time it's different," said head Chanel seamstress Madam Martine as quoted by AFP. Knowledge of fabrics, pattern-making, draping and other techniques will help you in making the best decisions.
But for the start, here are a few options for US-based courses.
---
Classroom Instruction: F.I.T. Haute Couture classes

Image courtesy of FIT.
The Fashion Institute of Technology (FIT) offers a Competency-Based Certificate Program in Haute Couture. Classes include Haute Couture Sewing Techniques, Decorative Techniques and Embelishments, Construction and Technology, Haute Couture Apparel Design and Haute Couture Portfolio.
These are semester-long classes, and to attend this course you will want to be based in New York. For more information on the program, check out the FIT website.
---
Classroom instruction: Susan Khalje's Couture Sewing School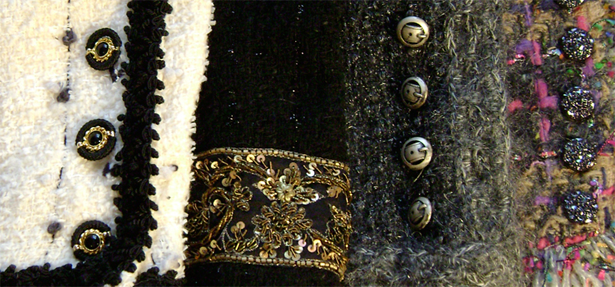 Image courtesy of Susan Khalje.
I've taken a few classes with Susan Khalje, who learned couture sewing at the New York couture salon, Chez Cez et Bez. She is the author of two sought-after books: Bridal Couture: Fine Sewing Techniques for Wedding Gowns and Evening Wear (Krause) and Linen and Cotton: Classic Sewing Techniques for Great Results (Taunton). She started her Couture Sewing School in 1993 and has been teaching couture throughout the US.
Her classes are project-based and last from four to six days. Some of the highlights include:
-The Classic French Jacket Class where you will learn how to construct a jacket inspired by Chanel Haute Couture version
-The Couture Sewing School in which participants work on a project of their choice incorporating the couture techniques that go into Susan Khalje's
exquisite garments
-The Draping Class with her Paris-based colleague Julien Cristofoli.
-and, finally, her Sit-and-Sew with Kenneth King is another great project-based class.
Visit Susan's website for more information on her workshops.
---
Classroom Instruction: Claire Shaeffer's Sewfari Workshops
Claire Shaeffer, the author of the bestselling Couture Sewing Techniques and frequent contributor to Threads magazine, as well as Vogue Patterns magazine, teaches two workshops a year in her hometown Palm Springs.
Chanel and That Suit – focuses on Chanel, her life and contributions to fashion, the House of Chanel, the Chanel suit, and the French dressmaker suit. The primary emphasis will be on elements such as the unique hand buttonholes, chain weights, unusual and contrast linings, and decorative trims, which Chanel used to make the French dressmaker suit unique.
More Chanel – continues with additional details from Chanel garments such as moving and reshaping the princess seam, shaping collars, additional cuff and trim designs, skirts, and designing with fabrics.
Haute Couture Workshop – focuses on traditional haute couture techniques such as those described in Couture Sewing Techniques. This unique workshop provides an overview of European dressmaking and tailoring methods.
For more information on Claire's workshops, contact her at sewfari@earthlink.net.
---
Online classes:

LBD class board.
If you are looking for online couture classes, you must check out PatternReview. Their classes are a combination of PDF downloads, live chats and message board interaction and, if you are disciplined and diligent, you will enjoy it.
Take any class by Susan Khalje – it will be packed with couture sewing techniques. Some of the classes she offered so far are: Couture Hand Stitches, Top 10 Couture Techniques, The Lace Class, The Little Black Dress, Wedding Gown 101. The great thing is that these classes are the most affordable option for learning couture.
---
I also recommend taking several classes by Sarah Veblen for some of the important foundation techniques, especially The Technique of Underlining Garments. In addition, try her Fun with Fitting series and fabric classes!
These are just a few classes, which I took myself or which have been recommended by others. I know there are more available, so if you have participated in other classes or want to share your opinion about those I mentioned, I would love to hear your opinion.
At the end, a quick tip: If you are not sure about a particular class check out Patternreview.com for feedback, or ask a question about the class in sewing forums. Good luck!
~Marina
Marina von Koenig is a couture enthusiast blogging at Frabjous Couture.