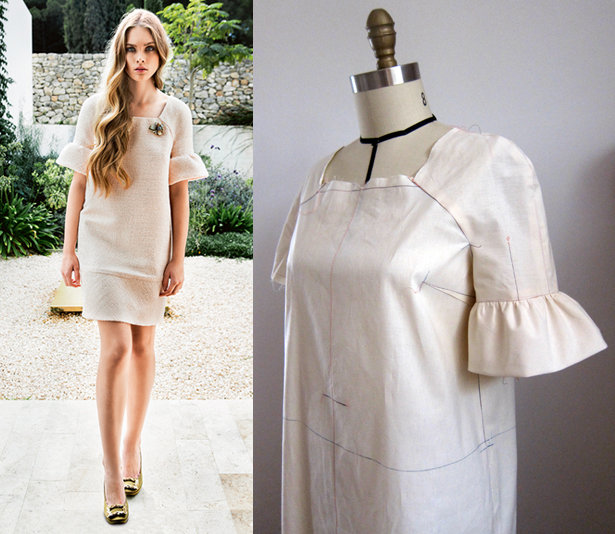 ShareThis
Behind the Seams with Marina von Koenig
One couture project a month seems to be a tangible goal for a mother with two active kids, and so I have decided to continue with my monthly challenge and make another project based on a Burdastyle pattern. My last month's project, an Alençon lace skirt, proved to be a versatile addition to my wardrobe.
Skirts are real wardrobe staples and I got to make more. This time, however, I chose to sew the Peplum Sleeve Dress from the February 2014 issue of Burdastyle magazine. I loved the playful Peplum Sleeve Dress, which turned to be quite popular with many BurdaStyle fans.

Model #112, Burdastyle Magazine, February 2014
The dress is an easy sew, as Patrick Grant of the Great British Sewing Bee would say. By the way, have you ever heard of the word sew being used as a noun? I even looked it up in a dictionary (I am not a native speaker) and found only a verb. I like it nevertheless. We, sewists (or sewers?), use the word very creatively; there is even some sew-related mystery series, with titles such as Sew Deadly, Reap What you Sew, or, without a sew, Deadly Threads, Pinned for a Murder, A Fitting End, or Stitch Me Deadly (I am not kidding, it's all on Amazon).
Anyway, fast forward to our dress. Why does a couture version actually mean? There are quite a few extra steps, which will help perfect fit, improve the feel of the fabric, support construction and add visual appeal.
Usually, couture construction starts with making a toile. I wanted to make a test garment to assess the fit, which was reported to be quite loose by many reviewers. Sorting out fit issues at this early stage will considerably reduce wasting handling of fabric during construction (prevent raveling, snagging and soiling)

All seamlines, grainlines and notches were machine-stitched before assembly, providing reference points on both sides of the test fabric. Visible grainlines helps correct fit issues.
Loosely woven silk tweed that I have chosen for this project is indeed tricky. It ravels easily, and therefore needs wider seam allowances and additional stabilizing and support. In addition, silk tweed tend to snag and unravel, so a toile is a great time investment.

A medium-lightweight tweed, perfect for summer months, but challenging in construction.
THE PLAN
FABRIC TEST: The first thing that needs to be done before proceeding with construction is a fabric test. A decision needs to be made, whether the dress will be underlined, or quilted. While I prefer underlining the dress, it is a slightly droopy fabric, and it is important to make sure that underlining works with it. If not, I will need to quilt tweed and lining layers as in a couture Chanel jacket. I have basted silk organza underlining to a larger section of my fabric without cutting it off, and hung on a hanger overnight. I will report the results in my second post.
SLEEVE DART ADJUSTMENT: After checking the fit of the test garment, I have converted the sleeve dart into a seam. This allowed me to get a smoother shoulder curve on the sleeve (BurdaStyle patterns tend to be a little wide in shoulder area for me), and will help reduce seam allowance bulk when I press it open.
LINING: Whether underlining will be used or not, I will go either for a silk crepe-de-chine or charmeuse lining. For hotter climates, the more lightweight crepe-de-chine is a better choice. Lining can also be eliminated, with silk crepe-de-chine used as underlining, and seams can be finished with crepe-de-chine bias. The latter will produce a softer drape than organza underlining.
FACINGS: Facings are not recommended for a couture version of this dress, because they create bulk, especially when you work with fabrics such as tweed or bouclé. Instead, lining is extended all the way to the edge. Or, for a lining-free version, lightweight facing should be used to reduce the bulk.
NECKLINE: Neckline should be stabilized with a stay tape, with silk organza selvedge being a lightweight yet stable option.
I like charting out these key stages for every complex project. It gives me an opportunity to look up or practice new techniques and helps focus on construction without interruption. Sometimes, I would also add a step-by-step plan, just like the one in Burdastyle magazine.
Now, that the planning and fitting is done, it is time to work on construction. In Part 2, I will show you the finished dress as well as some behind-the-seams details of it. I would love to read your comments about the projects and the plan.
Marina von Koenig started her couture adventure five years ago. She blogs about her work at Frabjous Couture. Currently, she runs a straight-skirt draft-along, which focuses on custom fit through accurate measurements and innovative pattern drafting.