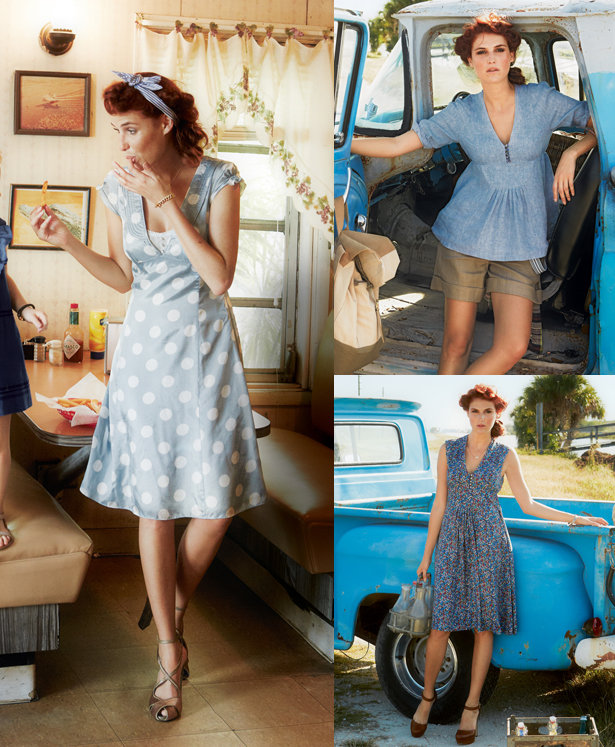 ShareThis
Break out the floral prints for this casual and retro inspired collection. 1940s dresses and separates have great detail, like buttoned bibs and Peter Pan collars. These patterns are from the April 2014 issue of Burda Style magazine.
This dress has all your favorite retro elements: decorative buttons, a stylized collar, and a cute fit and flare shape. Make it pop with polka dots or gingham.
Get feminine style in a wraparound blouse with a wide Peter Pan collar and drawstring waist. It looks fresh in country fabrics like gingham and floral prints, especially with high waisted pants.
This craft apron has bespoke style. It'll put you in just the right mood for gardening, working outside, or running a little cafe.
This dress has such sweet details. Tiny buttons set off the bib V neckline, and it has cute little pleats at the back and waistline. It's a demure look with a little country style.
This could be your favorite dress for running errands or throwing a barbecue picnic. It has a sweet Peter Pan collar and drawstrings at the waist and sleeves.
Sweet details give this blouse adorable country style. Tiny buttons set off the V neckline and empire waist.
This soft and dreamy Puff Sleeve Dress has hints of the 1940s, with lots of volume at the shoulders. Puffed sleeves are closed with buttons at the sleeve cuff and the flaring skirt is perfect for swing dancing.
Make a Short Blazer that matches everything with contrasting denim patch pockets and a floral lining. It has a little tomboy style for your spring looks.
A hip yoke with tiny pleats makes these Pleated Straight Leg Pants so flattering to your waistline. They're fitted with a side zip for a smooth line. Cuff them with oxfords for a cute tomboy look.
Slip on some oxfords or cowboy boots to get a down home look with these new designs. They'll put you in the mood to pick some flowers or take a road trip to the closest small town diner.
For girl's patterns in a similar style, try Country Style Kids.
Happy sewing!