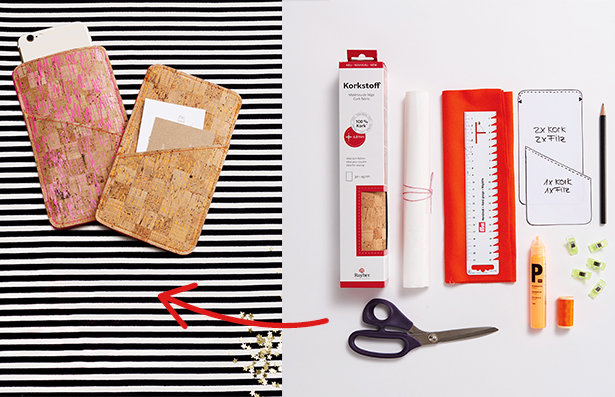 ShareThis
Small effort, big effect! This stylish cork smartphone case is quick and easy to make – we promise. Read on to see how to sew one for yourself.
Materials:
- Template (download for free here)
- Cork fabric
- Felt
- Fusible web
- Neon bead marker pen
- Neon thread clips (buy here)
- Thin ruler
- Scissors
- Pencil
Step 1- Draw pattern pieces on the back of the cork, drawing the large piece 2x and the small piece 1×. Cut out all pieces.
Step 2- Iron the fusible web onto the wrong side of the felt. Peel off the paper backing and iron the cork pieces onto the felt. Cut felt exactly along edges of cork pieces.
Step 3- Draw on the cork with the bead marker pen, as desired.
Step 4- Topstitch close to upper edge of each cork piece. To help the cork feed better, lay the thin ruler under the presser foot.
Step 5- Lay large pieces together, felt sides facing. Lay small piece on one large piece. Hold edges together with clips.
Step 6- Edgestitch all pieces together along the side and lower edges.
Insert your phone and some other necessities then it's ready to be carried around without any damage!