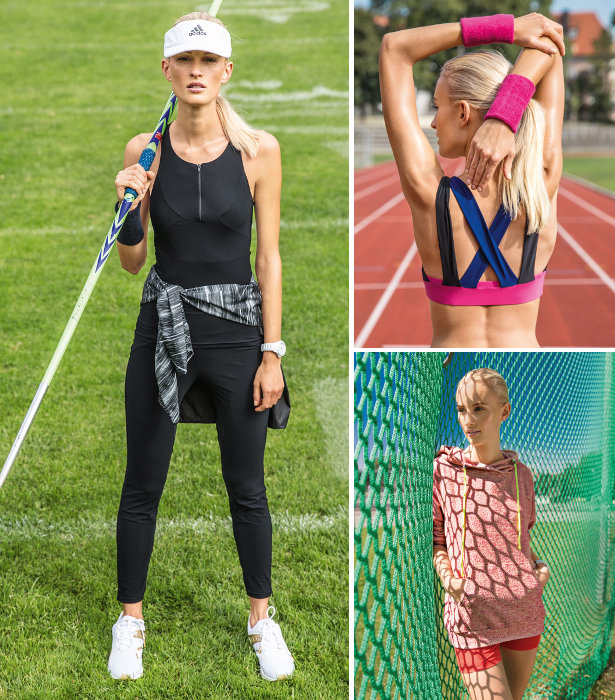 ShareThis
We're kicking off the new year with this activewear collection from the January 2017 issue of BurdaStyle! It includes chic sports bras, leggings and a tank top that will have you looking while working out.
Short or long? You can decide as the bottom panel of this breezy tracksuit jacket blouson, with its rib knit cuffs and hood, can be removed due to the the zipper attachment. A beautiful play with color thanks to the adjustable cord in pink.
Sporty details like the zipper that allows an adjustable neckline for extra comfort, as well as an elastic band at the hem to keep everything in place in in this crop top style sports bra.
The straps running from front to back of this sports bra guarantee optimal freedom to move and staying put.
Waistband pleats and a wide elastic combine to add an absolutely fashionable touch to sport shorts.
For those who find sports bras to be too revealing for comfort, this functional tank top with the overlapping straps in back is long enough that it can be worn tucked in or left loose.
These athletic leggings feature a side zip and wide waistband and the seam panels add to the exceptional fit that doesn't feel too tight.
The wide elasticized waistband of these leggings includes an additional tunnel casing on the inside. The hem width can be adjusted to comfort with the zippers along the lower side seams.
So cool, that it is an accessory to use around the clock. The match sack with double zippers and a neon cord functions just as well as a fill-in for the hand bag.
This color-block sports bra proves that a sport top can also be a true eye-catcher. In back, the additional criss-cross straps give the necessary extra hold.
Thanks to an invisible zipper in the side seam, these leggings pull on easily.
A truly sporty wardrobe addition that includes special touches like the kangaroo pockets sewn into the diagonal seams in front and a beautifully overlapped front for the hoodie. Add the neon yellow cord accent for a cool look.
Get all the looks and download all the patterns included in this collection here for a discount!.