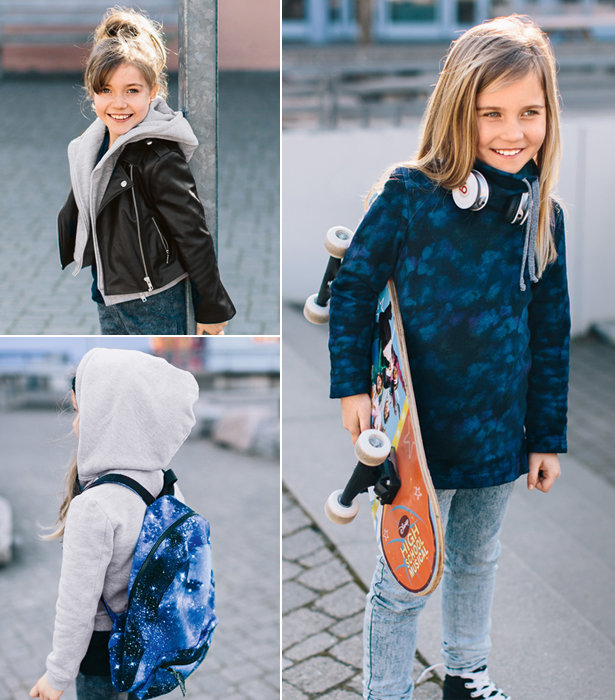 ShareThis
A biker jacket, faded motorcycle jeans and a hooded sweatshirt are all outfits that will get the school year kicked off right for cool kids and have them in the fashion spotlight all year long.
Click on the pattern image to go to the pattern store page…
A metal zipper front, top-stitched seams and tabs at the shoulder give this kid's biker jacket sewn in faux leather a nod to adult version motorcycle jackets worn on the road.
The large bellows backpack sewn with outer space print fabric has lots of extra storage space. For those wishing to make it waterproof, simply line it with oilcloth.
This pullover sweater sewn in a grey material is fast to sew. The neckline and hems are left unfinished and the shoulders are decorated with sewn on epaulets with sparkles and beads.
The high collar on this sweatshirt is adjustable with the tunnel casing drawstring and the slits at the sides can also be regulated by the zippers.
The padded and top-stitched knees on these jeans follow the biker look theme for a complete fashion statement.
A hood and flap pockets for cold hands make this hoodie with the asymmetric zipper extra cozy.
Sew these jeggings up in either a dark denim or light denim for different looks and occasions. Both of these skinny jeans are tapered to a narrow ankle and comfortable at the waist due to the elastic casing at the waistband.
Happy Sewing!