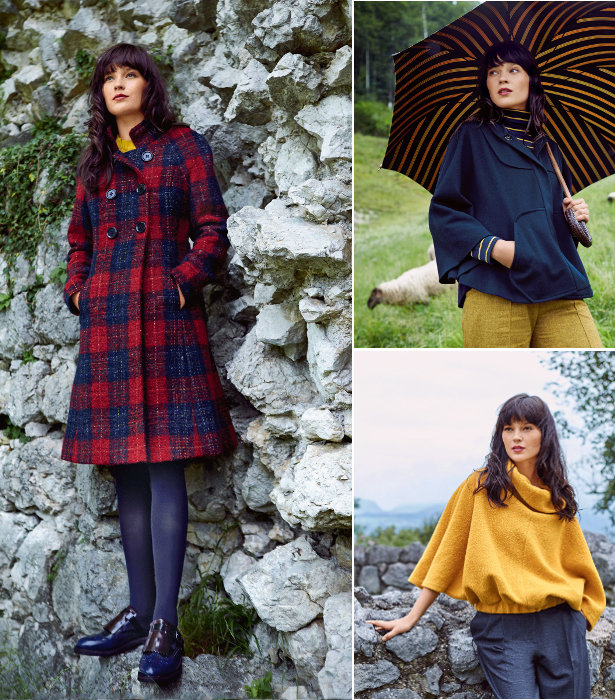 ShareThis
Rain, wind and fog? Yes, please! Finally, we can pull on these relaxed capes, plaid coats and tea time dresses – because no one is more stylish in damp weather than the British! Shop all eight patterns in this collection from the December 2016 issue of BurdaStyle.
A mini skirt in winter? Absolutely, when sewn as shown here in a wool fabric. A flounce sewn in the panel seam adds a modern touch to the classic silhouette.
Flounces sewn into the panel seams, tucks and a dropped waistline with a hem flounce are just a few reasons the dress sewn in a mood boosting – and trendy – yellow exudes confidence from every angle.
Beautiful yet practical! The front and back of the cape with hood and extra large pockets is sewn together on the underside of the arms to keep it from slipping.
Super feminine and beautifully breezy at the same time. The slightly flared dress with flounces at the sleeve hem is fashionably paired with over-the-knees or ballerinas for the office, as well.
The double-breasted pea coat includes a wide standing collar and front seam pockets for a look that is ultra clean and tailor-made when sewn with this plaid wool skillfully matched at the panel seams.
The flutter sleeves of this midi dress have the effect of a cape. The plunging slit in the middle front makes it sexy.
A true best look in a design that follows the classic lines of a cape, though with stitching underneath the arm to keep everything in place, and a toggle closure borrowed from the duffle coat style.
A great look to wear with narrow trousers or a pencil skirt, though it functions just as well as a quick pull-on jacket. The poncho sweater includes a rolled neckline and a casing at the waistline for flexibility. Bonus, it is super easy to sew!
If you love all these sewing pattern styles then you can download and get them ALL in this discounted pattern bundle here!