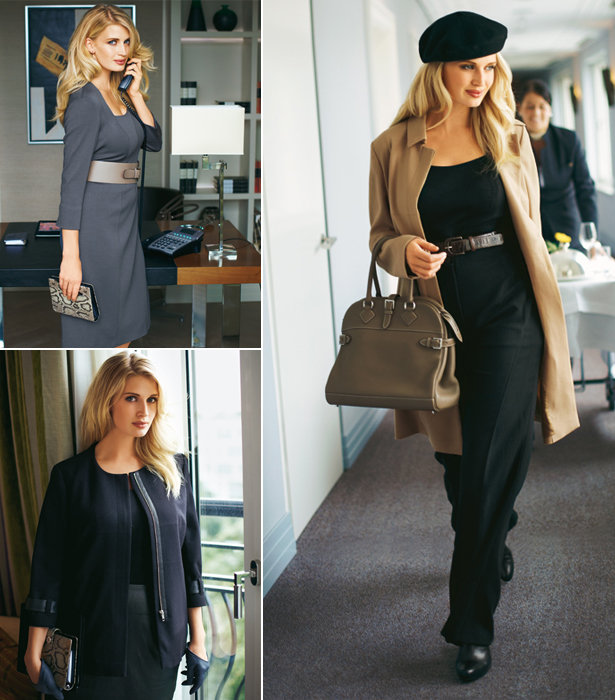 ShareThis
This women's plus size collection from the January 2011 issue of BurdaStyle features eight brand new sewing patterns and two updated sewing patterns perfect for the office.
Click the pattern image to go to the pattern store page…
This jacket features a round neck with no collar and features leather pockets with are elegantly concealed in the side seams.
This fashionable wool coat features sleek concealed buttons and a structured collar.
This wool skirt is a classic piece that can be made in a number of different fabrics including leather or wool.
This narrowly cut leather pencil skirt fits perfectly with a blouse and features decorative stitching at the hem.
Sometimes the littlest things make the biggest difference, just like the side bow on this blouse. There is a casual lapel, darts and cuffed long sleeves.
It's a blouson jacket, not a blazer! It's double-breasted and has elaborate details such as epaulets and a homemade belt with horn buckle.
These flared trousers were made using a wool crepe fabric and feature extravagant diving seams in the pockets.
These classic trousers feature a boot leg fit, pleats and hip pockets.
If you've got it, flaunt it! This beautiful dress is made out of a stretch wool jersey and accentuates a woman's curves while the square neckline is a tasteful décolleté.
This sleeveless tunic features a tight bodice that is supportive and sensual. Pair it with a wide belt over the waist panel.
Happy Sewing!