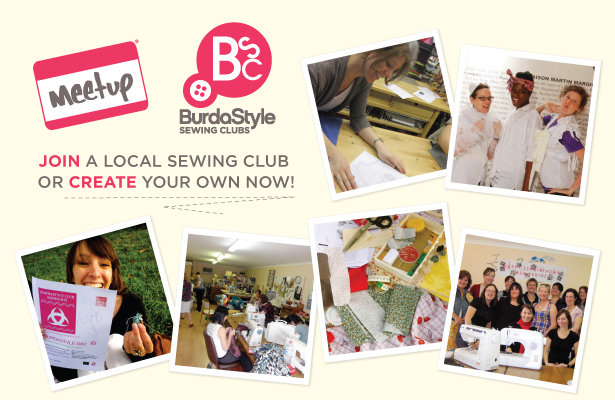 ShareThis
While we are an online community, the activity of sewing is decidedly offline. From the feel of the fabric to the maintenance of a sewing machine, sewing is a tactile craft, requiring a physical connection that can never be replaced. Our offline BurdaStyle Sewing Clubs (BSCs) further this physical connection by offering face-to-face support and friendship with fellow passionate sewers.
BSCs are centered around each group's unique schedules, and can meet weekly, bi-weekly or monthly. The clubs are simply a way to bring our online community to your neighborhood and, like our website, is intended to be versatile for a wide range of interests and lives. They promote our open-source philosophy: the idea that information ought to be shared freely among anyone interested in learning.
There are two ways to be a part of a BurdaStyle Sewing Club:
1). Connect to our official Meetup Everywhere page. Meetup's 'Meetup Everywhere' platform is a wonderful way to meet fellow BurdaStylers right in your area, plan an event and date, and share meeting pictures and recaps all in one place. This is the easiest way to form a club of your own. Take a look, sign up and discover how easy it is.
2). Check out our list of BurdaStyle members who have created clubs in their neighborhood. Feel free to contact them to see if you can join in on the fun. If a member is unresponsive, please e-mail David[at]BurdaStyle[dot]com.
The listed members are also featured on our Google Maps. Take a look to see where they are:

View The BurdaStyle Sewing Clubs in a larger map
We hope that you will find a club that you can connect with, or create an inspiring one of your own. If you need help or have questions, please let us know in the comments below.