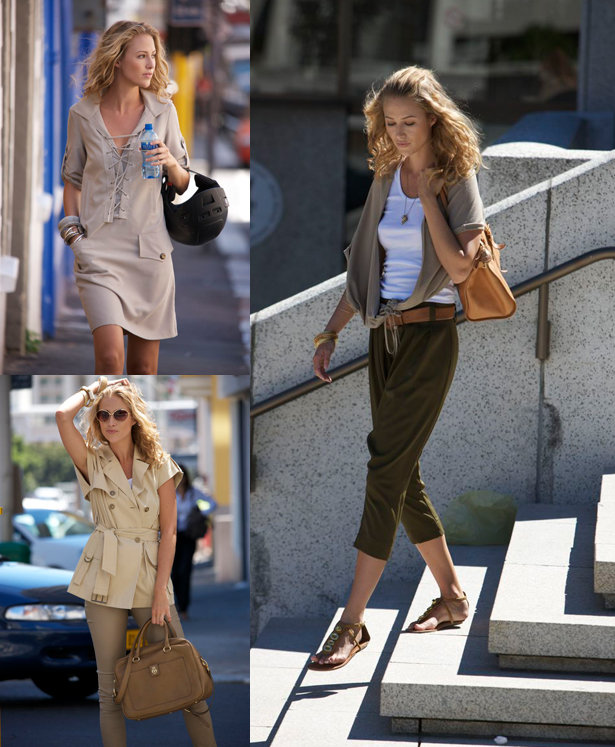 ShareThis
Hit the city streets in tough, adventurous looks with utilitarian details like cargo pockets and structured shoulders. This collection is perfectly styled with white tees and gladiator sandals. These designs are from the May 2010 issue of Burda Style magazine.
Cropped Harem Pants are a laid back trend to wear out on the town. These have a full waistband and zip fly to dress up the baggy silhouette. Pair them with a loose tank and sandals.
Get desert style in a cute Tie Front Dress. This one laces up the bust for a utilitarian look like your favorite hiking boots. Finished with button pockets and cuffs.
A utilitarian Jumpsuit is so cool and tough with a pair of chunky stilettos and some aviator glasses. This is the only piece you'll need to hit the city streets looking fierce.
Menswear gets a luxe touch from metallic fabric. This unique Vest with Pockets is a fun addition to spice up those khaki basics. Slip it on to instantly change your look.
Cargo pants mean business for you weekend. This design is cut nice and narrow for a woman's figure. Just tuck in a white tee and you're good to go for a casual day of shopping or sight seeing.
Military inspired details put this Belted Military Jacket a cut above the rest. Structured lapels, crisp pockets, and a wide waist-cinching belt command attention in khaki.
A Khaki Skirt is anything but basic in this skirt with pleated pockets and a button tab waistband. It'll be part of your new urban uniform.
The Trenchcoat Vest is for women who want the classic style of a trenchcoat on warmer days. This short sleeved jacket has all the crisp detail, minus the sleeves and length.
This Sleeveless Blouse makes utilitarian details totally feminine. It's fitted at the waist to flatter your curves and has a deep V neckline framed by sharp lapels. Make military style your own in this top.
Designs with military edge give your wardrobe a little toughness that gives great contrast to bright summer jewelry and sandals. Rotate these pieces into your sundresses and shorts for something a little rougher that looks so chic.
Happy sewing!