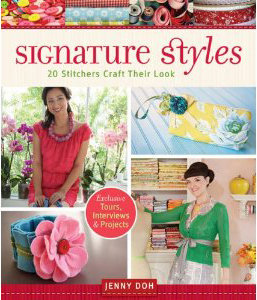 ShareThis
[UPDATE 12/12/2012] – Congratulations to BurdaStyle member runningwithscissors1
Comment on our blog for a chance to win a copy of Signature Styles: 20 Stitchers Craft Their Look.
Twenty top stitchers take readers on an exclusive tour of their homes and studios-graciously offering their signature techniques and a step-by-step project along the way.
This unique book presents informational, inspirational profiles of creative and crafty women, complete with stunning images of them surrounded by the style components that define their work and art. The profiles include such best-selling authors such as Betz White, Kayte Terry, Megan Nicolay, and Kathy Cano Murillo as well as popular bloggers such as Heather Bailey.
Click here for purchasing info on Signature Styles: 20 Stitchers Craft Their Look
.
For a chance to win this fun and creative book, please answer the following question in the comments section below: How does BurdaStyle inspire your crafting style?
The deadline for submissions is Tuesday, December 11, 2012 at 11:59 PM (EST). One lucky winner will be chosen.
Good luck!
The BurdaStyle Team