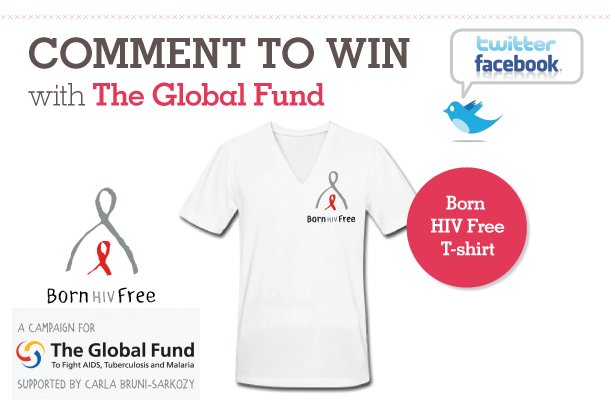 ShareThis
Connect with BurdaStyle on Facebook and Twitter for your chance to win a Born HIV-Free T-Shirt from The Global Fund!
Born HIV-Free is a campaign initiated and supported by Carla Bruni-Sarkozy for The Global Fund. With the announcement of her Ambassadorship for The Global Fund for the Protection of Women and Children Against AIDS in December 2008, Carla Bruni-Sarkozy is engaging the world of art, culture, fashion and entertainment to support the cause of ensuring that virtually all children are born HIV free.
Until Monday, August 23rd, you can win a free t-shirt in honor of this fantastic cause! To enter, first sign the petition supporting your country's contribution to the Global Fund. Then connect with us on Facebook and Twitter, or comment on this blog, and share with us why you are in support of this cause.
If submitting an answer via Twitter, be sure to include the @BurdaStyle tag. If submitting via Facebook, enter your response as a comment when the question is posted on our fan page.
Best,
David @ BurdaStyle
P.S. – Congratulations to member flutefish for winning our previous giveaway with Sublime Stitching!