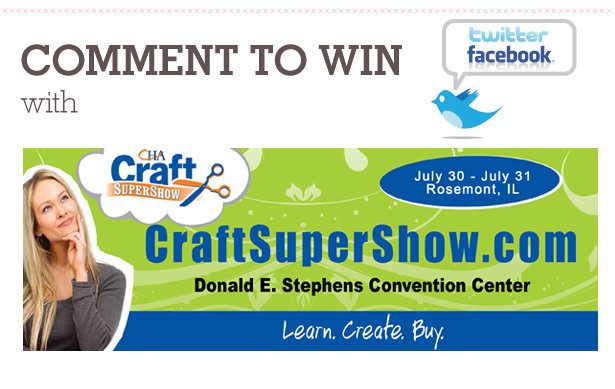 ShareThis
Connect with BurdaStyle on Twitter and Facebook for your chance to win two tickets to the upcoming CHA Craft SuperShow!
The CHA Craft SuperShow takes place in Rosemont, Illinois, USA from Friday, July 30 to Saturday, July 31. It is open to the public and focuses on a variety of crafts, from sewing and knitting, to scrapbooking and everything in between! Come to the Craft SuperShow to buy craft products, attend show floor events, participate in make-and-take projects, take classes and more!
Visit the offical Craft SuperShow website for more information.
Until Thursday, July 22nd, you can win two tickets to this fantastic event! To enter, connect with us on Facebook and Twitter, or comment on this blog, then answer the following question: What craft or sewing skill have you always wanted to learn but never have?
If submitting an answer via Twitter, be sure to include the @BurdaStyle tag. If submitting via Facebook, enter your response as a comment when the question is posted on our fan page.
Good Luck!
- David @ BurdaStyle
P.S. – Congratulations to Nehmah, Katrin V. on Facebook and CarmencitaB on Twitter for all winning digital subscriptions to Selvedge Magazine in our last giveaway!