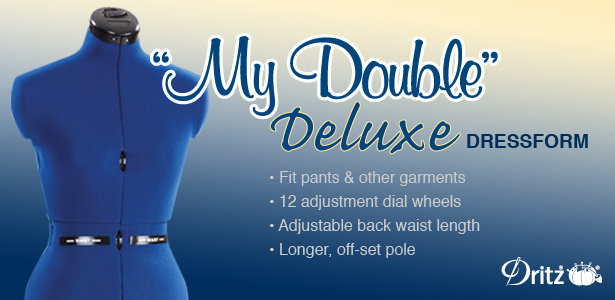 ShareThis
[Updated 12/1/2011] – Congratulations to diediedarling, who was picked at random to win this giveaway!
---
[Updated 11/22/2011] – The winner of this giveaway can now choose to receive either the small or medium "My Double Deluxe dress forms!
---
We've got one more fantastic dress form from Dritz to give away!
During the past two weeks we have shown you three cool projects and techniques that can be done using Dritz products (see them here, here and here). This week, Kasia (member postmodest) wows us with a fun and in-depth project variation, "Kasia's Lovely Blouse," using the 09/2011 Jumpsuit pattern. She used and incorporated Dritz products into her variation with stunning results.
Here are some of the products she used. Visit her project's page for the full list. Also, check out her two super-easy ways to embellish a garment using Dritz products.

From Left to Right: The Mighty Travel Iron, Sewing Gauge, Large Seam Ripper, Fray Check™, Rotary Cutter (28mm) and Tailor's Marking Set
Now, until Monday, November 28th at 12 p.m. (EST), Dritz is giving away one of their amazing "My Double Deluxe (Small)" or "My Double Deluxe (Medium)" dress forms. Here are all the great features it has:
- Designed to fit pants plus all other types of garments (gowns , dresses, suits & skirts).
- Off-set center pole for hanging pants
- Shaped hips -bottom & thighs for fitting pants
- Longer pole to accommodate taller women – wedding dresses & evening gowns
- Extended shoulders for supporting & setting in sleeves
- 12 Rotating dial wheels at bust – waist & hips
- Adjustments can be made in precise increments
- Adjustable back waist length
- Adjustable neck with pin cushion
- Pin Hem Marker
- Foam-backed nylon cover for easy pinning & marking.
Sounds cool, right?! To enter, answer the following: What must-have tool do you need and just can't seem to find?
Good Luck!
Please note: If selected as a winner, any personal information you provide to receive your prize in this giveaway is subject to the sponsor's privacy rules. These may differ from BurdaStyle's rules, so please review the rules before entering your information. BurdaStyle is not responsible for the handling of your data in connection with this giveaway.