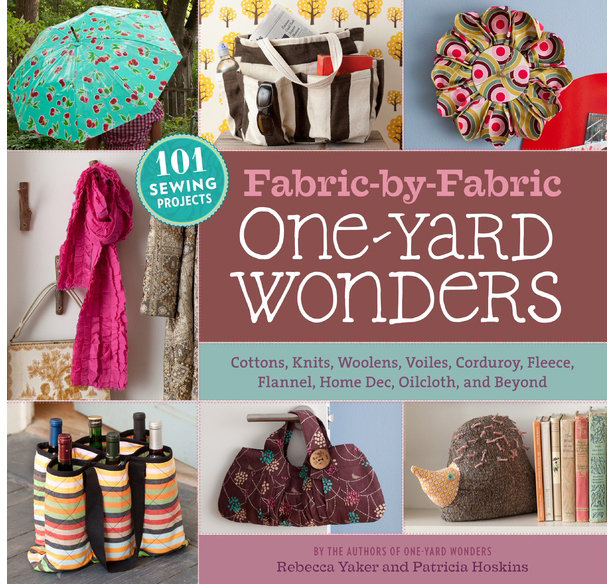 ShareThis
[Update 1/25/2012] – Congratulations to Twitter follower julia_01212 for winning this giveaway!
Comment on the blog or connect with us on Twitter for your chance to win a copy of "Fabric-by-Fabric One Yard Wonders" by Rebecca Yaker and Patricia Hoskins.
This book is published by Storey Publishing, and is sure to be a wonderful addition to your sewing library. Here is the description:
The best-selling authors of "One-Yard Wonders" are back with another all-new, amazing collection of 101 sewing projects. "Fabric-by-Fabric One-Yard Wonders" offers affordable and easy projects for both the occasional and the dedicated sewing hobbyist. Even better, each on-trend design requires just one yard of fabric. Responding to the increasingly diverse range of fabric weights and types now available, Fabric-by-Fabric One-Yard Wonders is organized by fabric type. From fleece to flannel and corduroy to vinyl, the inspired and detailed instructions in this book show the eager reader how to make the most of each fabric's unique characteristics.
For purchasing information, please go here
To win this fun and creative book, please answer the following question, in the comments below or on Twitter: Which of your craft or sewing projects that you have made recently required the most amount of fabric?
To submit an answer via Twitter, be sure to reply to @BurdaStyle and the hashtag #WinWithBurdaStyle.
The deadline for submissions is Monday, January 23rd at 5 p.m. (EST).
Good Luck!
- David @ BurdaStyle