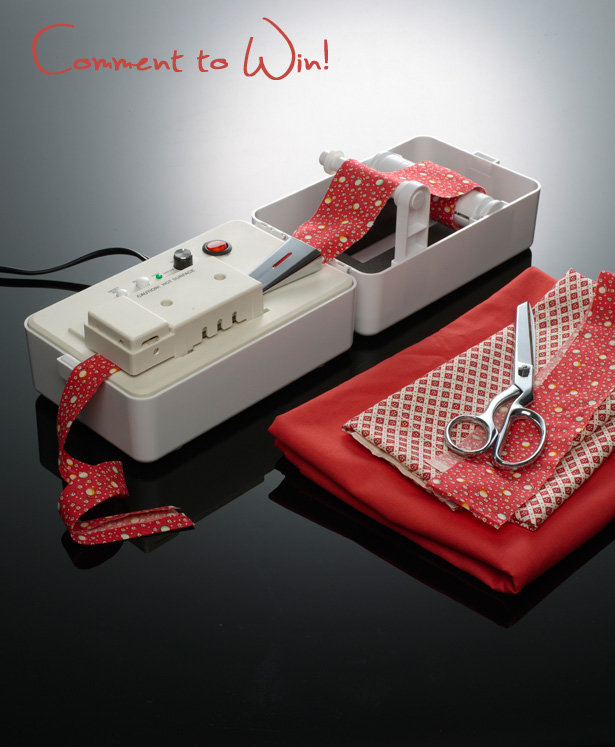 ShareThis
Always wanted to know how to make bias tape? Skip the hassle and comment to win the Simplicity Bias Tape Maker! This giveaway is now closed. Congrats to our winner, Sewingbysherry!
Bias tape is the familiar trim used for binding and stabilizing edges. This handy little notion is typically sold in solid color polyester/cotton blends and 3 yards in length. It doubles as a functional binding and decorative trim, and pops up in all kinds of projects, from retro woven blouses to baby clothes and accessories.
You can, of course, buy bias tape in many fabric and craft stores in a rainbow of colors. But why not make your own? Making your own bias tape is fun and easy, either with careful pressing with an iron or a special tool. The Simplicity Bias Tape Maker folds and presses flat bias strips into single fold bias tape with the push of a button. You have unlimited options, can perfectly match fabric, and won't burn your fingers pulling fabric through manually! Think of the possibilities with floral, polka dot, or textured bias tape you can make yourself.
Making your own bias tape means a perfect match every time. This machine works with cotton, silk, lightweight wool, home decor fabrics, and more! Start finishing your projects with custom bias tape for a polished, one-of-a-kind look.
The Bias Tape Maker is easy care, too. It shuts off after 10 minutes of non-use and comes with its own carrying case. You can bring this machine to class or sewing parties with no stress and make custom binding tape for your friends.
Want to win your own Bias Tape Maker? Leave a comment with your favorite way to use bias tape. The winner will be chosen Wednesday, August 20 at 5:00 PM EST (9:00 PM GMT).
Here are a few ways we like to use bias tape to get you you started…



To finish sheer fabrics and conceal a facing underneath


To stabilize a neckline


Used instead of piping as a decorative detail


Wrapped into rosettes for embellishment or accessory projects


To outline pockets on children's garments


To add polish to bibs, napkins, placemats, and other home dec items


Make several yards of bias tape, and wrap up with ribbon and fat quarters as a gift for new stitchers or quilters
This prize is available to U.S. residents only. Let's get those comments rolling!