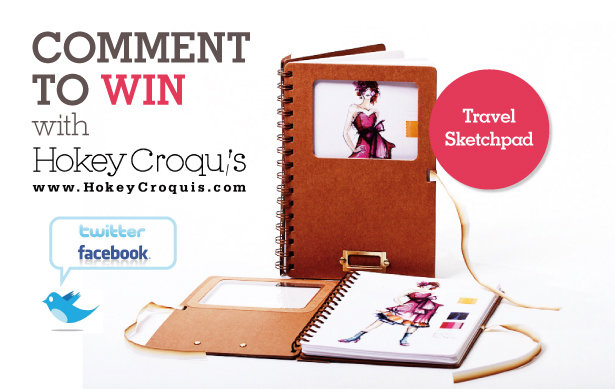 ShareThis
"Like" BurdaStyle on Facebook and follow us on Twitter for your chance to win the newest Travel Sketchpad from Hokey Croquis!
The Hokey Croquis Travel Sketchpad is the perfect companion for designers on the go. Each page features pre-printed croquis figures to make proportional designs. Best of all, the figures disappear when photocopied or scanned.
Product features of this amazing item include:
- 40 pages, featuring three different page layouts in rotation
- Double sided printing means you get optimal drawing space
- Letter-sized 8.25″ × 5.15″ after perforation
- Croquis outlines disappear when photocopied or scanned
- No need for light boxes or tracing paper
- Perforated pages make for easy and neat removal
- High quality, heavy stock paper stands up to pens and markers
- Ribbon closure keeps your tear sheets together
- Vellum storage pouch on inside back for loose inspiration tears and fabric and trim swatches.
For a closer look, view this super-cute video of the sketchpad in action.
Until Monday, September 6th, you can win one of these fantastic sketchpads! To enter, connect with us on Facebook and Twitter, then answer the following question: What does your dream garment look like?
If submitting an answer via Twitter, be sure to include the @BurdaStyle tag. If submitting via Facebook, enter your response as a comment when the question is posted on our fan page.
Good Luck!
- David @ BurdaStyle
P.S. – Be sure to "like" Hokey Croquis on Facebook for updates on their other great items.
P.P.S. – And congratulations to loyl8 for winning our previous giveaway with Tina Sparkles!