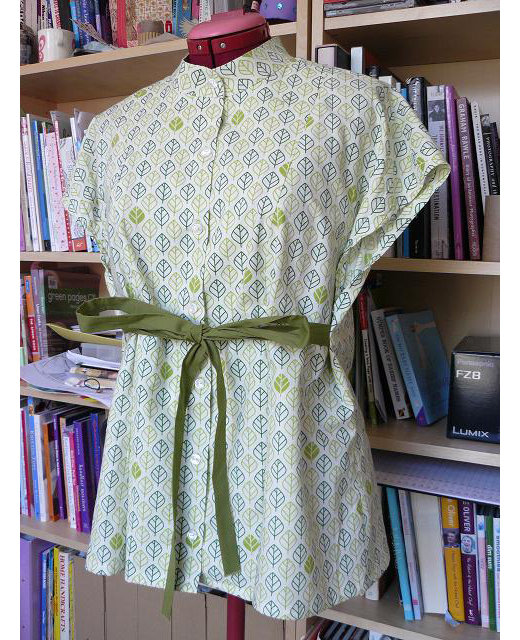 ShareThis
It's all done! I finished my Liz blouse today and love it, it's so light and airy and is perfect for this summer weather. I decided to use the same fabric for the inverted pleats which I added to the princess seams in the front for extra bump space. I think they worked really well. One thing I think I would change are the sleeves, I feel that they gape a little too much but I think this could be fixed by shortening the sleeves slightly towards my shoulders and under the arm. I added a little length to the blouse to make sure it covers my bump and I also added ties in a contrasting fabric which I attached to the side seams, this way I can tie them in the front or the back. Just look at my bump though isn't it getting big?! I'll be posting a mini how-to later this week for sewing inverted pleats so keep your eyes peeled for that.
Now those jeans you see me wearing in the photograph don't fit me around the waist anymore. I'm embarrassed to say that they're actually held together with an elastic band, oh the shame! Plus it's getting far too warm to be wearing jeans for this pregnant lady so of course I need to make a pair of trousers for my next project and really I can't pass up making the 'Nichola' trousers can I? Considering they're my namesake. So my plan is to lower the waistband at the front for it to fit underneath my bump. I may also look into making the waistband slightly larger than needed and adding some elastic to the back to give them some room for growth. What are your thoughts on these plans? Do you think they would work? I have some delicious chocolate brown linen in my stash that should work beautifully with this pattern along with elastic and most probably a zip but come to think of it, I may not need one. If I make the pants a little less figure hugging along with the elasticated lowered waistband I may be able to get away with having one altogether. So these pants should cost me $0 since I already have everything in my stash. I like that!
Just one more week left for the Lydia sewalong. I've been procrastinating big time about sewing my dress version of this pattern. I need to get over my fear of cutting into the jersey fabric and just go for it. Maybe I'll get started on it tomorrow, maybe. Someone please give me a boot up the backside and tell me I just need to go for it. Thanks, I appreciate it.
I've not seen anymore Lydia creations on the site so if you're taking part please post your finished creation and let us know your thoughts. Are you happy with the outcome? Did you make any alterations? What would you do differently next time? I have started a new thread in the forum for deciding what our next project will be, head on over there and cast your vote.
Happy Sewing!