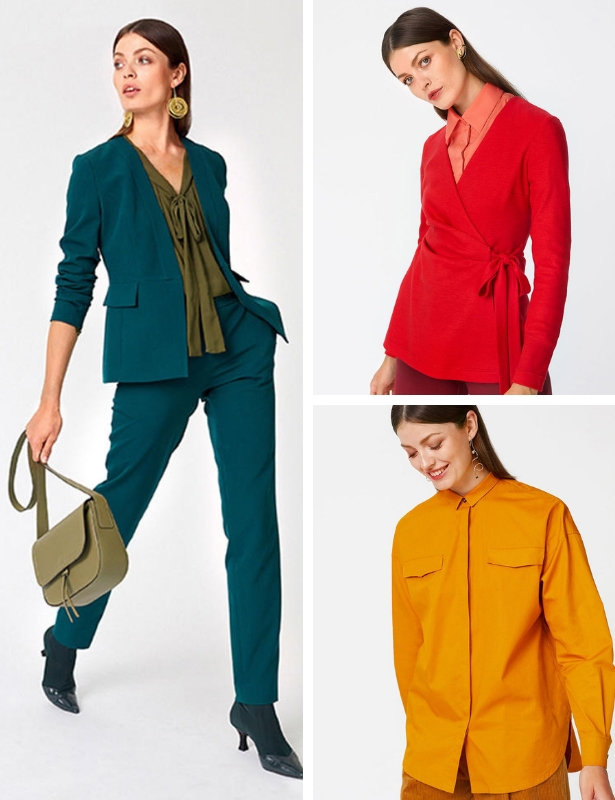 ShareThis
"Goodbye" dull grays! This winter we're choosing vibrant shades of red, violet and electric blue to breeze into the office – especially a full look in tone-on-tone. Be bold with style! This collection is from the 11/2018 issue of BurdaStyle.

Perhaps you already have enough blazers in your wardrobe? You must add one more! This collarless and comfortable style is fresh with figure shaping panels, precision flap pockets and a fastidious shoulder yoke.



This style is one for every shape. The sharply cut dress includes cleverly placed darts and topstitched panel seams. Highlight the waistline by adding a self-made belt in the same fabric, if you wish, or accent with a thin leather belt.



This blouse gets its sporty edge from the front flap pockets, the rounded lower hem and classic cuffs for the sleeves. Sewing it with a poplin adds a robust crispness.



These suit trousers prove that they are as comfortable as wearing track bottoms. Though they are sewn with a jersey fabric, it is not noticeable thanks to the perfect cut of the style.



The vibrant pink and pleated panel in front has the look of a patch pocket and since the rest of the skirt is in the dark blue tone, the shaping detail is quite flattering.



This shirt is a sleek and clean style with sophisticated details. The style is modest enough to work with nearly every style of skirt or trousers. The light side gathering and the unique front panels are miles away from basic. Choose a contrast color jersey for the panel, if you would like to lean toward bold.



Whether the day calls for office time or relaxing at home, this wrap shirt with the asymmetric pleats and tying band sewn in a soft jersey is sure to be a new wardrobe favorite.



This season's trend color is a beautiful choice for this blouse with the accent tucks and a petite tying band at the waistline.



The pleat in the skirt panel manages the swing for this satin dress – and emphasizes the supple matt and shine effect. The bodice is narrowly fitted as a counterbalance that beautifully shapes the silhouette at the waistline.


Fill your closet with color and sew ALL these patterns with the discounted pattern collection bundle here!