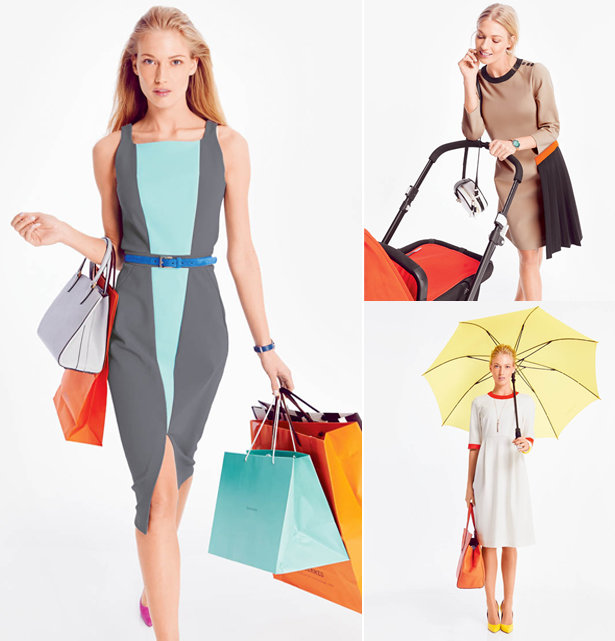 ShareThis
This new collection from the August 2015 issue of BurdaStyle is filled with classic, sleek silhouettes. The use of color is creative and offers an added element of interest to pieces that might seem rather average, they then become quite interesting with a little play on color.
A suit is the must-have of the season. Here the jacket is collarless, with a clip closure and 7/8-length sleeves.

Olive Wool-Polyester Gabardine; Forest Green Wool Flanneled Coating; Kelly Green Stretch Cotton Sateen
Calf-length pants with pleats that fall elegantly downwards. The wide waistband emphasizes the waist. Make in a gemstone as shown for perfect fall pants, pair with statement leather loafer.

Walnut Stretch Viscose Jersey; Warm Beige Solid Jersey; Beige/Gray Striped Polyester-Rayon Rib Knit
This dress makes easy styling for semi-formal events or even to the office for a special meeting. It is knee length and has effective seams. Rear it is closed with a zipper and it has 3/4 sleeves. A great Fall/Winter item.

Black Matte Jersey; White Solid Jersey; White/Black Metallic Striped Cotton Jersey Knit
This form-fitting shirt is for experienced seamstresses who enjoy a challenge and possibly puzzles because all parts must fit together exactly right. It's a structured top and much more than just your average "long sleeve shirt" as you can easily dress it up with a pleated skirt.

Whisper White Silk Wool; Bright White Silk Wool; Harvest Pumpkin Silk Wool
Simplify your life and your dress silhouettes. Here in the form of an easily and naturally falling dress with small pleats in the skirt and an increased waist seam. A pleasant contrast is provided by the aperture at the neckline and sleeves.

Heathered Wild Dove Stretch Viscose Jersey; Italian Steeple Gray Stretch Ponte Knit; Italian Bright Baby Blue Stretch Knit Pique
The dress made of high-tech double-face with small darts located just to the right, the slit is in front instead of back.Use your imagination and different fabrics colors for a color-blocking effect.

Cafe Beige Viscose Jersey; Black Solid Jersey; Orange Solid Jersey
A great dress with a perfect fit and an extravagant detail. The round neckline and discreet 3/4 sleeves are quite classic, while the left side is left loose with a falling pleat. The sewn-on decorative buttons along the left shoulder seam make a nice extra detail.

Blue Lagoon Stretch Blended Rayon Ponte de Roma; Deep Teal Cotton-Polyester Knitted Fleece; Bench Green Stretch Viscose Jersey
This structured t-shirt features a front ruffle on one side and darts for a perfect fit. Add extra accent interest by using a contrast color on the collar.

Italian Sunflower Yellow Double-Faced Contemporary Jersey; Turquoise Stretch Rayon Jersey; White Modal Jersey
Wear the zipper closed all the way or slightly opened and this jacket with small cap sleeves is futuristic. Color accents the angled, welt and a bar at the waist. When the weather turns cooler, just wear a thin turtleneck underneath.

Bright Yellow Silk Chiffon; Angora Colored Floral Silk Chiffon; Buttercup Silk Crinkled Chiffon
Hip-length top with lush ruffle trim.
Happy Sewing!