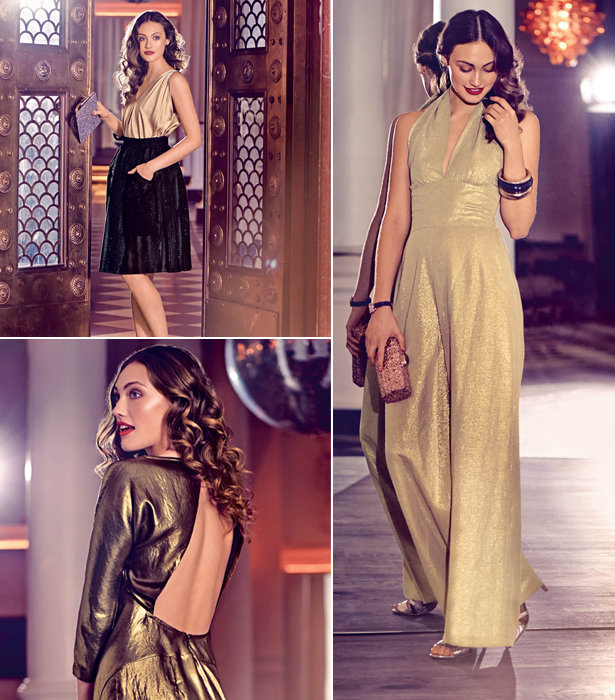 ShareThis
You will eagerly accept every cocktail party invite that comes your way thanks to this new collection from the June issue of BurdaStyle magazine. It features sexy dresses, ladylike lace details and classic blouses that can be dressed up or down.

Carolina Herrera Metallic Gold Brocade; Metallic Gold Stretch Polyester Jersey; Metallic Gold Glittery DTY Polyester Jersey
Sexy and classy, all in one dress! This pretty cocktail dress has a high collar at the front, 3/4 sleeves and hits just above the knees with a surprising and sexy open back cut out.

Gold Solid Charmeuse; Golden Haze Yellow Stretch Cotton Sateen; Stretch Limo Black Silk Wool
This cocktail dress has a corset torso with side lacing, a scoop-neck square front and and hots right above the knee. Very sexy and fun to wear for a cocktail party!

Metallic Gold Cotton Jersey; Gold Metallic Spandex; Gold Spandex
Put on your party shoes! This strapless tube dress is easy to wear (and make), it's form-fitting and with the right fabric it can be a real stand-out piece!

Soft Gold Silk Duchesse Satin; Croissant Silk Crepe Back Satin; Croissant Silk Satin Face Organza
Pair this classic sleeveless blouse with everything! It features a beautiful plunging v-neck, gathered sleeves at the shoulders and a flattering flowy silhouette.

Camel Scallop-Edged Re-Embroidered Lace; Butter Rum Poly Floral Lace; 3/8" Black Double Face Silk Satin Ribbon
Lovely in lace! This sweet lace blouse features a v-neck, short sleeves and a flirty bow gathers the fabric below the bust. Tuck it in to a skirt for a dressed up look or pair with jeans and heals for a date night!

Gold Solid Sateen; Pale Gold Silk-Wool Satin Faced Twill; Turkish Metallic Gold/Black Polyester Woven
Get ready to make a style statement in this 70s style halter jumpsuit fit for a dancing queen! It features wide leg pants, a cinched waist and a halter-neck that bares your back!

Black Silk Crepe Back Satin; Deep Chocolate Silk Crepe Back Satin; Black Stretch Polyester Crepe
Classic LBD (little black dress)! This short sleeve cocktail dress features short sleeves, a v-neck and a flattering flared silhouette. You can also take this dress another direction depending on the fabric and length of the dress, it can easily be transitioned into a daytime summer dress.

54 inch Black Sheer Lace; Ralph Lauren Simply Taupe Silk Georgette; Black Plain Elastic
This warm weather lace jacket has a bomber jacket style silhouette. It features cuffed sleeves, no collar and diagonal seam detailing in the front and back. An alluring piece that will add class and sass to your wardrobe!
This beautiful knee-length skirt features a lining skirt and an over skirt, which is transparent with large front pockets. A piece to dress up any basic tank or blouse!


Black Stretch Cotton Batiste; Black Stripes Sheer; Black and White Stripes Sheer
You can purchase the entire collection here in a pattern bundle at a special price for this week only!.
Happy Sewing!